Monday, February 27, 2012
With a book atop the South Korean bestseller list, Asian religions professor Ryan Joo has become a celebrated author in his native country.

The book, roughly translated as Things That Appear When You Pause, is a collection of essays and shorter works written over the past year and a half. More than 100,000 copies have sold since the January release and it is currently South Korea's number one bestselling nonfiction work.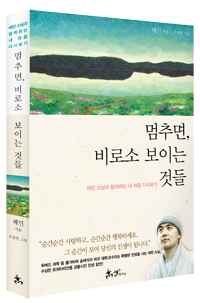 Written from a Buddhist monastic point of view, the pieces were originally published in a variety of newspapers and magazines as well as on Professor Joo's Twitter site. The essays encourage people to make an effort to notice the world around them, to find time for friends and family, and to simply ease their pace in order to find happiness.

"In Korea, life is so hectic. When you slow down, there are things you can appreciate. It allows you to find serenity in a busy life," Joo said. "I feel people are taking the message of the book. Many say they have felt consoled by my words."

Since the book's publication, appearances on numerous television shows and in print and online publications have made Joo well known throughout South Korea. He is now frequently recognized, and often stopped on the street and in subway stations for photos and autographs.

"I'm so humbled by the experience. It feels unreal," he said. "Everyone I know is ecstatic. They can't believe this is happening either."

Joo's first book, also a collection of essays, sold about 35,000 copies, and he was approached by nearly two dozen publishers who wanted to handle his follow-up. He chose Sam and Parkers, a top South Korean publishing house. Joo says they have done great work both in designing the book (it includes full color illustrations by the artist Wu Changheon) and promoting it. Things That Appear When You Pause is currently available only in Korean, but translations are being discussed.

Joo credits a portion of his success to Twitter. He counts about 110,000 Twitter followers, with upwards of 500 new people following him every day since the book was published. He started posting on the social networking site less than two years ago, with no expectations of gaining a wide audience.

"I just did it for fun. I wanted to communicate in Korean. I missed speaking the language," said Joo. "Little did I know that my creative writing side would take off."

His success has also boosted interest in his Hampshire College classes. Following a fall semester sabbatical, he is teaching two spring semester courses, Decoding Zen Buddhism and Introduction to the Academic Study of World Religions.

"People in South Korea are now interested in where Hampshire is. And some students in the Five Colleges have learned about me from their parents. A few have come to Hampshire to take my courses, which I thought was very interesting," said Joo.

He also insists that, despite the success back home, he is glad to be back in Amherst and working with students again.

"I love coming back to Hampshire and teaching. This is where I belong, and where I feel most at home," said Joo. "I feel an incredible joy in teaching, so it's nice to be back teaching on a regular basis about a subject I care about."