Wednesday, February 29, 2012
Hampshire College has received two grants totaling $45,000 to incorporate dairy science into its microbiology and biochemistry course offerings.

Hampshire's Farm Center is home to 12 rare Dutch Belted cows and a cheese-making class at the College has proven enormously popular with students.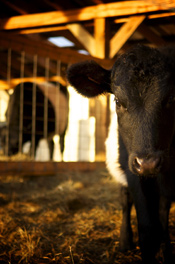 Five local dairy farmers have expressed interest in working with the College to produce and market dairy products including butter, cheese, yogurt, and farm-bottled milk. Ten cheese and yogurt producers, including a number of Hampshire graduates, have expressed interest in expanding their product lines with items from the Farm Center.

The grants, from the Massachusetts Society for the Promotion of Agriculture and from Newman's Own Foundation, will enable Hampshire to build a cheese room at the Farm Center's dairy barn and acquire small, state-of-the-art equipment. Students will learn scientific principles as they learn production techniques.

Working with Hampshire and its students, the local farmers can run trials of various production techniques or cultures in order to be able to offer products most suited to their resources and goals. For example, some farmers might need rapid turnaround on new products, so a particular style of yogurt or soft cheese would be most beneficial. Other farmers might have the luxury of delaying sales of a portion of their product, and would prefer working with hard, aged cheeses.

The Massachusetts Society for Promoting Agriculture (MSPA) provides grants to enterprises that in the judgment of the Trustees of the Society will promote agriculture in Massachusetts. The Society has for over 200 years offered financial assistance to forward-looking individuals and enterprises committed to the cause of agriculture and agricultural land use in Massachusetts.

John Lee, chair of the MSPA grants committee, stated: "We are pleased to make this grant and are confident there will be considerable deliberate outreach to area farmers to learn how to use and implement this technology."

The Hampshire College Farm Center is a working farm as well as a research, education, and outreach facility. It is dedicated to sustainable agriculture and provision of agricultural programs for the College, local community members, and school groups. The Farm Center is a place where students and faculty integrate science and alternative technology as a means for testing sustainable methods of farming and the production of food.