Thursday, March 8, 2012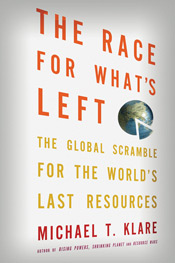 Interview with Rolling Stone >>
Ten Beautiful Places We Could Destroy With Human Drilling >>
In his latest book, Professor Michael T. Klare explores the haunting reality of what may be the planet's final "gold rush," with governments and corporations seeking to secure dwindling supplies of vital natural resources.

The Race for What's Left: The Global Scramble for the World's Last Resources is being released by Metropolitan Books on March 13. It is the fourteenth book by Professor Klare, a leading resources and energy expert and director of the Five College Program in Peace and World Security Studies (PAWSS), based at Hampshire College.

The earth's reserves of natural resources are diminishing as the population swells and developing countries modernize.
There have been spikes in oil and gas prices and disastrous spills from increasingly complex and dangerous drilling methods, as countries and corporations vie for the remaining caches needed to run cars, power homes, manufacture computers, grow our food, and build modern technology.

What happens as the demand for critical natural materials surpasses the supply?

Klare predicts we will see more upheaval:

Border disputes and military confrontation: As corporations and governments scout new locations to be exploited, countries such as the United States, Canada, and Russia are already arguing about ownership of lands above the Arctic Circle, thought to be rich in oil reserves. Likewise, Japan and China have clashed over disputed territories in the South China Sea, resulting in military demonstrations that could easily escalate into armed conflict.

Shortages of farmland and food: Arable land is fast becoming a precious commodity, just like oil, gas, platinum, and other natural resources. Nations such as Saudi Arabia, with no farmable land, are spending vast amounts of money to acquire farm plots in other countries for their own use. The demand for cropland will soon outweigh supply, leaving those poorer populations to starve because of urbanization and population growth.

Conflict over rare earth elements: Though little known to the general public, rare earth elements are increasingly important for modern manufacturing—and China currently accounts for some 95 percent of global production. Critical materials like titanium (used for airplanes, NASA satellites, and military armor) and lithium (essential for hybrid car batteries, smart phones, and wind turbines) are also in increasingly short supply, while demand for them is skyrocketing.

Environmental ruin: With easily accessible stores of natural resources becoming depleted, corporations and governments are taking much bigger risks to extract raw materials. The disastrous Deepwater Horizon oil well in the Gulf of Mexico was only one of hundreds of extreme drilling and mining efforts taking place around the world today.

Klare argues that only altering our consumption patterns altogether—embracing renewables, efficiency, and alternative materials—will save us from political, economic, and environmental catastrophe. What's needed is a "race to adapt"—a crucial task that will be the greatest challenge of the coming century.
Professor Michael Klare on WGBY's "Connecting Point" >>

Local book events:

As part of his book tour for The Race for What's Left, Professor Klare will speak and sign copies of the book at a number of local and regional venues this spring.

On April 25 at 7 p.m. a celebration of the book's release, with a presentation and book signing by Professor Klare, will be held at Hampshire College in Franklin Patterson Hall (West Lecture Hall). This presentation is one of a number of events leading up to the inauguration of President Jonathan Lash on April 27. Events list >>

April 3: Broadside Books, Northampton, 7 p.m.

April 21: Harvard Natural History Museum, 2 p.m.

April 24: Odyssey Bookshop, South Hadley, 7 p.m.