Tuesday, April 3, 2012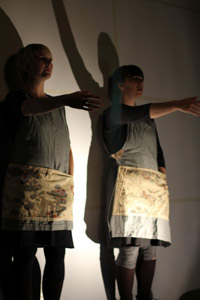 Hampshire College graduate Karinne Keithley 92F was recently honored with a 2011 New York Dance and Performance Award, commonly known as a BESSIE award. The BESSIE is often referred to as the dance world's equivalent of an Oscar.
Keithley won the Outstanding Production award for Montgomery Park, or Opulance.

"I am so proud of that show," Keithley says. "The show was only partially made up of dancing. It was made by applying a dancer's mind across many different media. It's an extremely dense piece of text that took me ages to figure out how to stage."

Combining elements of opera, radio play, light projection, and movement, Montgomery Park speaks to Keithley's diverse skill set.
In addition to choreography, her interests include sound composition, animation, and video production. She also does a ukulele cover act, and she founded her own small press.

"I have a total willingness and confidence that I can figure something out and embark on a vaguely defined project and find my way through it," she says. "I think that that was definitely a product of my experience at Hampshire."

Keithley studied choreography at Hampshire for both her Division II and Division III projects. For Division II, she combined philosophy and choreography. Her Division III (senior) project was an evening of choreography, combined with a series of stories modeled on Italo Calvino's novel Invisible Cities.

Keithley says her divisional studies formed the basis for her subsequent career. "They were seeds that I've continued to come back to over and over," she says. "Ideas I first began to imagine in my Div III are only now coming to fruition in my writing."

Patience and "modesty of expectations" are the keys to succeeding in the world of dance, Keithley says: "Stick with it. Find your own small posse. Eventually posses become the elders of the scene."

"Don't be depressed if recognition doesn't come initially," she adds. "These artistic institutions are built by peers. Find people with common values, and create institutions."