Friday, April 6, 2012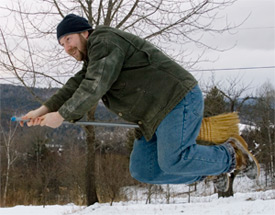 "I couldn't sleep the night before," Gregory Butler 89F says of the day his Oscar nomination was announced. Butler was nominated for the Best Visual Effects award for his work on Harry Potter and the Deathly Hallows Part II.

Even though he ultimately did not win an Oscar, Butler is still deeply honored. "I'm forever an Oscar nominee," he says.

Butler has worked on more than 20 films, often as a visual effects supervisor. His notable work includes the Lord of the Rings trilogy, two Harry Potter movies, Forrest Gump, and Starship Troopers.

When he arrived at Hampshire College, Butler intended to study history. His work-study job in the library provided him with access to the College's collection of audio/visual equipment, and his interest was piqued. "By the end of my first year, I'd gotten to know the Div III video production students and professors," he says. "I was acting almost as a teaching assistant in some of the classes."

For Butler's Division III (senior) project, he wrote, shot, and edited a black and white film called Single White Male. His experience creating the film foreshadowed his later experiences creating special effects. "I really went into it unprepared creatively and over prepared technically," he says. "I had more a desire to make a film and less a desire to make a work of art."

"I've had the same issues throughout my career. Every day I'm balancing concerns about schedule, resources, tools, technique, but ultimately I'm going to be judged on the creative quality of what we're doing," he says. "Navigating that is a constant challenge. The tension between commerce and art is what I deal with all the time."

Butler says Hampshire College students are particularly well suited for the film industry. "The people Hampshire puts out into the world are great for what I do," he says. "Everything is about thinking outside the box."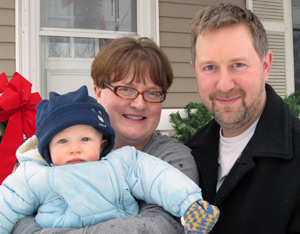 Photo: With wife Lisa Rollins 89F and their son, Stephen