Wednesday, May 2, 2012
Leticia Contreras 08F and Akil Hugh Gibbons 08F were recently awarded funding for their Division III (senior) projects through the Sander Thoenes Award.

These annual awards to students working in journalism, international relations, or peace studies honor the memory of Hampshire alumnus Sander Thoenes 87F. Preference is given to projects conforming to the spirit of Thoenes' career as a foreign correspondent.

Gibbons received $1,000 to support his documentary film Paper City, which focuses on the western Massachusetts city of Holyoke. In 2011, Holyoke had the highest school dropout rate in the state as well as one of the highest poverty rates. Gibbons says the film is intended to inform and empower middle school students in the community, helping them "understand their own self-determination within the societal circumstances."

Contreras received $500 f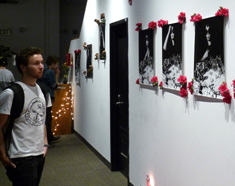 or "viviendo entre la herida abierta" (translated as "living within the open wound"), a project that used photography and oral histories to examine the lives of three generations of Mexican-American/Chicana women from Texas and California. It was a project that grew partly by trying to bridge her experiences growing up in Texas and those at Hampshire, which she says has proved to be an ideal educational environment for her.

"I was excited to be around other folks who wanted to learn and explore ideas," said Contreras.

By her second year at Hampshire, Contreras knew she wanted to focus on US/Mexico relations, and took many courses in Latin American policy, photography, and Spanish. She spent the fall of her third year in Mexico, and when she returned the following semester decided to use oral histories "to better understand how our environment shapes our identities." The stories she collected influenced her research as well as the conceptual photographic and video-based installation that made up her Div III project.

"Everything I do is for the community I come from, the Mexican and black working to middle class community. I'm a first generation college student, and I want to build a foundation for the younger people in my family," said Contreras, who was thankful for the Thoenes Award as well as guidance from Hampshire offices like the Career Opportunities Resource Center, Community Partnerships for Social Change, and the Civil Liberties and Public Policy program.

"There are ways to find funding for your passions. The installation was very pricey, but I was able to connect with a lot of resources."

After graduation, Contreras will work at the Highlander Research and Education Center in Knoxville, Tennessee (where she will also exhibit her Div III installation).

"I want to use my piece to build a curriculum around retracing our histories and showing how art can be a tool for social change, to bridge communities, and start a dialogue," she said.