Monday, May 7, 2012
For Nicole Markowitz 08F, her Division III (senior) project had her living in a world of her own creation.

Markowitz, as the artist, "made up my own world and deemed myself the ruler of it," she says. "Anything became possible to me, it was liberating."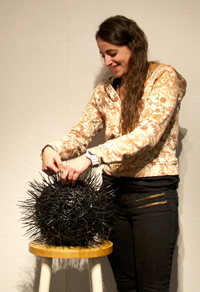 Her Division III, "Assembly Required," is a collection of sculptures and drawings, assembly instructions for creating optical illusions, and imaginary machines. Her sculptures are oftentimes crafted from everyday objects like bike chains and electrical wires. Her drawings are made with electrical tape on plexiglass.

"The work employs nonsense as a mode of redefining how we look at current existing models of reality, functionality, and necessity, inverting our notions surrounding function and value," Markowitz says. "It kind of all stemmed from this personal battle I was having against traditional art and what I'm supposed to be doing. In challenging that, I was unearthing these larger conceptual issues. There are a lot of layers to my work and a lot of them that are created subconsciously."

The perceptive leap the viewer must take to believe in the inventive artwork is rewarding for the viewer, she says: "For the viewer who can understand and accept nonsense, a machine will manifest."

Professor of Art William Brayton lauds Markowitz, calling her "tough," and "bold." "She's extremely motivated and professional," he says. "Her artwork demonstrates the tedious and time-intensive processes that she works with. Her Division III exhibition was one of the strongest that any of us had seen in a long, long time."

Markowitz, who had not studied art until college, credits Hampshire with helping her find and cultivate her inner artist. "I don't think I would be doing art if I went to any other school," she says. "I don't think being anywhere but this environment would challenge me to dig deeper conceptually. I learned how to be an artist here."

Photo:
One of Markowitz's sculptures, a sphere made of 500 feet of electrical wire and 800 cable zip-ties, was among student art selected for display at the December 2011 annual dinner of the Association of Independent Colleges and Universities in Massachusetts. Photo taken by Julian Feller-Cohen 09F.