Monday, May 7, 2012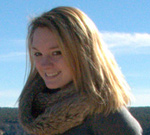 Four Hampshire College students have been awarded Earl Ubell Grants to support academic work involving science journalism:


Elise Trelegan's Division III is a series of projects communicating the science of Atlantic salmon reintroduction programs to a broad audience, and primarily focused on the Connecticut River Valley in Massachusetts.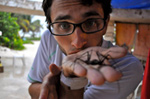 Amir Fogel plans to make a documentary about the importance of shark conservation, dispelling the stigma that they are savage, man-eating creatures.

Joshua Parr is joining the Pompeii Quadriporticus Project (PQP).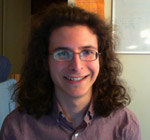 The PQP is an archaeological and architectural research project conducting a definitive study of one of the largest buildings in Pompeii, Italy, and culminating in an online three-dimensional model.


Usha Lingappa is writing and illustrating a book on the origins of life, focusing on chemistry at the interface between mineral surface and water at an undersea hydrothermal vent on Hadean Earth, roughly 3.8 billion years ago.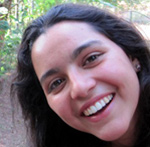 The Earl Ubell Grants recognize and support exceptional student work that in some way seeks to make the scientific method or scientific findings accessible to nonscientists. The grants are named for Earl Ubell, whose distinguished career has influenced generations of American science writers.

Ubell began his career at the New York Herald Tribune as a messenger and rose to science editor, a position he held from 1953 to 1966 before transferring to the then-new medium of television. He was health science editor for WCBS-TV from 1966 to 1972, and from 1978 to 1995. He served as the news director for WNBC-TV News from 1972 to 1976.

Ubell covered such notable events as the first Sputnik flight in 1961 and the first U.S. manned space flight in 1962. He carried out scientific research at major laboratories, and was the author of eight books (one co-authored). His numerous awards for journalism, medical reporting and science writing include an Emmy in 1970 for the New York area of the National Academy of Television Arts and Sciences and the Donald Salmon Award for significant contribution to development of the arts in that same year. Ubell died in 2007 at age 80.

Hampshire College alumnus, and the son of Earl Ubell, Michael C. Ubell 70F established the annual grants in honor of his father.