Tuesday, May 8, 2012
Media arts and sciences professor Chris Perry and anthropology and Asian studies professor Sue Darlington have been chosen as the 2012 recipients of the David Gruber Awards for Teaching and Advising.

The Gruber Awards were established by David Gruber 72F to bring attention to faculty excellence at Hampshire College, with a goal of spreading the ideas and methods used by these faculty members in order to provide students with the best education possible. Each recipient is awarded $10,000, with the winners nominated by the Hampshire community and chosen by a committee of students assisted by associate dean of students Renee Freedman.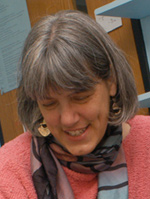 Darlington, who received the Excellence in Advising award, said that she was nearly speechless when College president Jonathan Lash called to tell her of the award.

"It's such an honor. I really appreciate the fact that the student committee made the final decision," she said.

One person who nominated Darlington wrote that the professor "has always managed to strike the right balance between being understanding, supportive, and encouraging but always pushing students to do their best work, to take their analysis a little deeper and to make a good paper even better."

Interacting with students is something Darlington says she constantly looks forward to. "It's the students who make this place so energizing—the questions they ask, seeing what they produce, and learning from them," she said. "You never know each year what Div IIs and Div IIIs you'll be on, and what things the students will be exploring and pushing you to explore."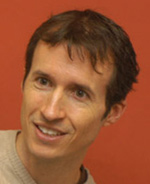 Perry, recipient of the Excellence in Teaching award, said two things in particular keep him passionate about his work at Hampshire.

"One is the students, whose curiosity and commitment inspires me daily. The other is the institutional flexibility that allows me to rework the animation curriculum based on my ever-evolving vision of what it should be," he said. "It is wonderful to think that those very students who have come through that very program saw me as deserving of this award. That's a very powerful vote of support."

One of the nomination letters for Perry stated that "his teaching involves a deep synthesis of science/technology and art … students do not just drive the car, they rebuild the engine, and they rebuild it with a creative purpose."

Students Katie Klein, Kristina Walker, Maia Jacoby, Marushka Grogan, and Jake Vogt served on the 2012 selection committee, representing Hampshire's five interdisciplinary Schools.