Wednesday, May 9, 2012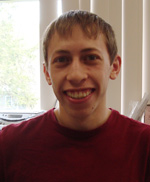 One 2012 Division III project at Hampshire College is relevant to anyone who has ever grimaced while filling up the gas tank: Scott Barish 08F has been attempting to (eventually) make grass capable of producing ethanol.

Barish's project—"Transcriptional regulation of the lignin gene HCT in the energy crop model system Brachypodium distachyon"—is a study of lignin, a structural aspect of cellular walls in grass.
The genetic modification of lignin will allow engineering of plants that have more useful lignin content and structure, allowing for the plants to be used as energy sources.

"I'm specifically working with one gene, and how it's regulated in the grass species I'm working with. I'm using this species to model for other grasses, which can be used to make bio-energy crops," Barish said. The gene Barish refers to is involved in the formation of lignin, which blocks the plant from releasing cellulose, a sugar that can be broken down and fermented by yeast to create ethanol.

"I'm trying to make a plant that it's easier to create biofuel from," he says. With ascending worldwide oil prices and a push for U.S. independence from foreign oil, Barish's work is particularly important. "Congress has mandated that nationally we produce 21 billion gallons of fuel from energy crops by 2022," he says. "I think that this is an attainable goal, and that we will probably see better energy crops in use in about five years."

"Scott is a wonderfully driven and perceptive person. He can take a problem and deconstruct it, break it down, find out what the core is," said evolutionary biology professor Charles Ross, chair of Barish's Div III faculty committee. "Things he has found out in the lab are going to have direct links to efficiency and fuel production. He's approaching a significant issue with using grasses for fuel production."

Barish's faculty committee also included botanist Larry Winship and biologist Sam Hazen of the University of Massachusetts.

Barish chose to attend Hampshire because he felt the College offered "a good way to conduct real research while working as an undergraduate." Prior to working with plant genetics in Division III, he studied the Russian language as well as molecular biology, eventually spending a semester in St. Petersburg, Russia.

"Hampshire has presented me with a fantastic opportunity to get experience doing research that I may get published at some point, and opening me up to those other kinds of thoughts on ethics as well," he said. "It's something that's unique to Hampshire and great, and definitely helped me get into grad school."

Barish will continue his studies at Duke University, pursuing a Ph.D. in cellular and molecular biology.