Wednesday, May 9, 2012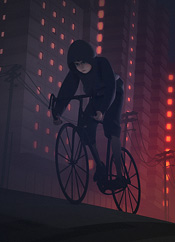 Hampshire College graduates Evan Viera 02F and Chris Bishop 00F spent more than three years developing and creating their 11-minute animated film Caldera. They recently were informed that it has won the Award of Distinction in the Prix Ars Electronica's computer animation category, one of the top prizes in the field.

Caldera Trailer >>

"It just feels crazy," says Viera. "It's such a high honor. Many of the films we've been inspired by in the past have won the same award."

Caldera, which premiered at the 2012 SXSW film festival in March, screened locally at the Amherst Cinema at 7 p.m. on Thursday, May 10.

The film tells the story of a young girl struggling with mental illness, who goes off her medication and leaves a bleak metropolis to immerse herself in a vibrant oceanic cove. The Caldera website notes that the film "venerates the brilliant minds forged in the haunted depths of psychosis."

Much of Caldera was produced at Hampshire College in collaboration with Bit Films, an animation studio developed on campus by media arts and sciences professor Chris Perry that invites student involvement at all stages of a production. Production was made possible through Hampshire's computer graphics incubator program, a project Professor Perry launched to let students intern with visiting artists who are given access to the College's technological infrastructure.

"Without Hampshire and what it gave us, we wouldn't have been able to make this film," said Viera, who noted that more than 30 current students, alums, and others worked on Caldera over the years.

Viera and Bishop, who both have taught classes at Hampshire and the University of Massachusetts Amherst, had studied with Perry, and collaborated with him on other Bit Films productions including the 2009 award-winning short The Incident at Tower 37. This time around, though, Viera took the lead, serving as director, composer, co-writer, and co-producer (with Perry as the other co-producer). Bishop was co-writer, animation supervisor, and story artist. Bishop and Viera initially discussed the project while teaching animation in Beijing, China.

"Both of us just poured ourselves into creating this idea. It wasn't a strategic thing. We had no idea how it was going to happen, but we had a giant drive that was not going to die," said Bishop.

Perry agreed.

"This is a terrific acknowledgement of the creative vision and leadership of Evan and Chris, certainly, but it is also a great celebration of the model that so many students have participated in throughout the years at Hampshire," he said.

Prix Ars Electronica is organized by the Austria-based Ars Electronica, and their website states that in awarding prizes they are "constantly on the lookout for what's new and exciting, what's radically different, what's making an impact right now." The award to Caldera will be presented at the Ars Electronica 2012 festival in Linz, Austria, in September.

More information on Prix Ars Electronica >>

Caldera also was chosen as the 2012 Best Animated Film of the Rome Independent Film Festival and an official selection of the Stuttgart Animation Festival and the Seattle International Film Festival.