Thursday, May 10, 2012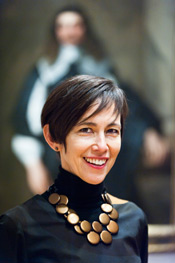 Chiyo Ishikawa 76F took her love of interdisciplinary learning into a career in the art world. Ishikawa, who is the Susan Brotman Deputy Director for Art and curator of European painting and sculpture at the Seattle Art Museum, says: "Hampshire shaped my interest in interdisciplinary work, and it's been part of all my work since then.

"Our museum, which has a global collection, was founded by a collector of Asian art," says Ishikawa, noting that most museums are founded with collections of Western art. "That and our location on the northwest coast of North America give us a unique perspective among American museums.

"When our curators planned a complete reinstallation of the museum's collection five years ago, we wanted to complicate the usual linear, geographically segregated presentation of art history. Our installation created links between different cultures and time periods to stress connections that arose because of trade, conquest, or other factors," she says. "These intersections surprised some audience members, which we like. We want the museum to be a place where the curious visitor is rewarded."

Ishikawa's Hampshire Division III was an oral history of the surviving artists from the COBRA movement. "COBRA was an avant-garde art movement, a group of artists from Copenhagen, Brussels, and Amsterdam, who were taking advantage of the opportunity to travel after the war, traveling back and forth, sharing ideas and working together," she says.

"After World War II, when their freedom to travel came back, they visited each other and shared ideas," she says. "Their inspiration was outsider art and children's art. They were trying to be as 'primitive' and unhampered by sophistication as they could."

Ishikawa had spent her junior year of high school in Denmark, and put her Danish language skills to use in interviewing the members of the movement.

After graduating from Hampshire, Ishikawa received a Ph.D. from Bryn Mawr College. After internships at the Metropolitan Museum of Art in New York City and Museum of Fine Arts in Boston, she took a position as an assistant curator at the Seattle Art Museum. She was promoted in 2005 to her current position.

As she works though her twenty-second year at the museum, she speaks fondly of her time at Hampshire:

"The thing that I liked about Hampshire is it encouraged ambition and initiative while not discounting youthful whimsy," she says. "It fostered curiosity, openness, and willingness to ask questions. Professors encouraged a healthy skepticism and nudged me toward thinking for myself, qualities which were invaluable in graduate school and beyond.

"I really thought it was a valuable experience."