Thursday, May 10, 2012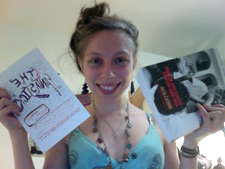 As part of a Division III focused on theatre as a tool for community organizing and empowerment, Allison Lerman-Gluck 09F collaborated on a theatrical production with students from Amherst Regional High School.
The ARHS partnership, which also included other Hampshire students, will continue beyond Lerman-Gluck's graduation, taken over by a different College student each year.

Lerman-Gluck describes her work with the high school students on the musical The Fantasticks as rewarding. "The kids are smart, creative, and interested. It was really great. It's a wonderful group of young people," she says. "They fit right into the Hampshire fold pretty easily."

Lerman-Gluck also starred in a play called God of Vengeance, and wrote about her own theatrical ideology, which she calls "Theatre of Communal Intentionality."

"I think theatre should be a tool that stimulates actor and audience equally. This is accomplished by using theatre as a lens to examine critical issues. It also has a lot to do with the process of making the play. It should be communally-engaged and self-actualizing for the people working on the show," she says. "I want to create a new framework for community theatre."

"Most ensemble theatre companies work with adults. There is a niche for youth-based theatre companies, and one for ensemble companies, but the two don't always coincide. I believe that young people benefit greatly from the supportive environment that community-based ensemble theatre can foster," Lerman-Gluck says.

She cites theatre professors Natalie Sowell and Djola Branner for their influence on her approach. "They have totally inspired me and really pushed me in an extreme way to be critical of my own thoughts and feelings," she says. "They're both incredible educators and theatre practitioners."

"Self-awareness and self advocacy" is what Lerman-Gluck says she has learned in her time at Hampshire. "Hampshire teaches you to work for things that you really want to happen and not give up because there are obstacles," she says. "I feel more solid and strong in my convictions and my ability to voice them as an educator, facilitator, and activist."