Thursday, May 10, 2012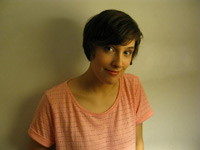 To Katie Frank 08F, humans and moths aren't as different as others might think: both go through transformations.

Frank's Division III (senior) project, a one-woman show called "The Joy Experiments," weaves together a personal narrative with the life cycle of Saturniidae moths.

"They have a one-week adult stage in which they have no mouth, existing only to mate and then die of starvation," she says. "So I used that idea of being without a mouth to talk about silences, ways that I feel as a woman."

"What I started thinking about was, here is a caterpillar that transforms into a gorgeous moth, but what if it misses being a caterpillar?" she says. "The show is about that—how to let go, to recognize that in every moment we're changing, and that change always means losing something and gaining something."

Her Div III show was largely a continuation of Frank's Div II studies, which revolved around creative writings on women's and gender studies, mythology, and "some studying of performance towards the end," she says.

Frank produced the play, in addition to co-writing it (with alum Esme Vaandrager 06F) and starring in it. Vaandrager directed the play.

Frank's short-term plans after graduating on May 19 include working for a feminist journal and small press in her native Oregon, helping to publish their latest book. As she prepares for commencement, she is able to reflect on her Hampshire education.

"I learned how to self-direct my education," Frank says of her Hampshire experience, adding that self-direction gives her confidence. "It's helped me to take an active role in every part of my life."

"I knew I wanted to go to a school that was nontraditional," she says. "I knew I could learn better in that environment. I knew Hampshire was the best school for that."