Thursday, May 10, 2012
Artist Zachary Clemente 08F created a modular installation on campus for his Division III project: "Spacious Thoughts" was a stunning piece that seemed to have descended over the walkway to the Arts Village, glowing ethereally in reaction to the movement of pedestrians below.

Clemente meticulously designed and built the bright canopy of red forms from 150 identical units arranged in a 3-foot x 5-foot grid, interlaced with 115 feet of independent motion sensing circuitry.
He built each unit by hand after a long process of drafting and experimenting that brought him to the final product, which arose from certain ideas he hoped to explore.

One of those ideas had to do with the space itself. "I adore that walkway space, especially this time of year," he said. "There are tons of intricate light and shadow effects at play as the sun filters through the trees there. They shimmer. The shadows come in translucent and mesh together. I felt that one of the reasons my installation was the way it was, was to showcase the natural work of that space by means of contrast." Every aspect of the piece was "non-natural," composed of stark red and sharp geometric lines meant to draw out the differences between the installation and its surroundings.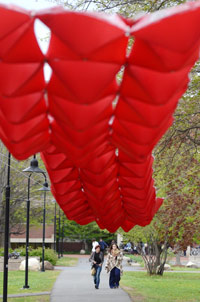 Another purpose of the piece was to explore human nature in reaction to it. After working on several previous installations at Hampshire, Clemente observed an interesting phenomenon: viewers began attributing behavior to the art installations, beginning to interact with a given piece as an entity as opposed to an object. He aimed to "explore the process of taking a single-function reactive object and multiplying it across a space until the resulting entity takes on a personality all of its own."

"I'm not a big believer in inaccessible art," he said, "but I understand that, fundamentally, the process is for the artist—I don't think you can justify your art being for someone else until it's done. The project revolves around ascribing behavior and showcasing the space, but for me, it's about what I can do, how far I can push myself."

Clemente moved towards his final project through extensive study of design and fabrication, especially through taking classes in Hampshire's Lemelson Center. "I took all the classes that I could," he said, "and then I ran out! So I took sculpture classes to keep building things." He also took blacksmithing through the Lemelson Center as well as courses at Smith College and UMass.

"When I started planning Div III, I knew I wanted to do an interactive, large-scale installation," he said. Clemente has long been taken with large, majestic art pieces, and has been inspired by Christo, whom he got to meet when the famous artist spoke at the Five College consortium Riverscaping symposium in April 2012.

Clemente undertook a second iteration of his installation during the final weeks of the semester with creation of a freestanding form on a lawn near the walkway, and he plans to continue creating new installations. "My Div III is a rough draft—a good example of what I want to keep doing," he explained. He is also compiling an intuitive guide of how to go about doing installation art on campus for future Hampshire College students.
Division III faculty committee: John Slepian, Five College assistant professor of art and technology, and Donna Cohn, visiting assistant professor of applied design