Monday, May 14, 2012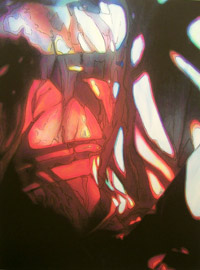 A Division III gallery show by Anastasia Keck 08F featured beautiful pieces created by varied and combined methods—projection, printmaking, performance, digital photography, and drawing—exploring layers of identity and reality.

This culmination of the artist's Hampshire journey arose from her interest in combining studio art and human rights.

Keck took courses at other Five College schools and was particularly inspired by a math and art studio class at Amherst College, where she began to explore projection combined with performance art.
By projecting images onto herself, she explored concepts of multilayered identities, and began conceiving of a unique artistic procedure. She would begin with a meaningful object and manipulate repetition of projection, alteration, and re-projection of that image. She was also concerned with the beauty and complexity of light dynamics.

"I'd been working before with paper structure and was absolutely fascinated by the shadows," she recalls.

Her passion for social justice met her artistic talent when she spent time as an art teacher on a field study in Uganda. While considering how art could intersect with human rights in a meaningful way, Keck was moved by the relationships she formed and the lives that intersected with hers. She understood the limited potential of outsiders to create change in oppressive geo-political systems.

"I was frustrated with how little I could do. Something else had to change. Westerners couldn't just pour in resources," she says.

The experience also brought her to the conclusion that identity was a universally important concept, worthy of exploration: "I had thought art, for me, had to be tied to social justice, but my experience in Uganda taught me that I could explore my own identity, and that was ok, too."

She still believes in the power of art to inspire change and raise awareness of important issues. "I think art can offer different perspectives, and present things in a way that can inspire people to think newly about certain issues. It can provide a different voice to add to the conversation," she says.

It is this ability to combine passions and explore interdisciplinary studies that makes her grateful for her Hampshire education. "My art would have gone in a very different direction if I'd gone to a traditional school. It's been really important for me to learn independence as an artist," she says.

After graduation, Keck plans to complete a printmaking internship before pursuing an M.F.A. in studio art, focusing on new media or printmaking.

"For a day job, I would be interested in doing work with a nonprofit organization," she says. "But I do ultimately want to be an artist."

Division III faculty committee: Art professor Bill Brayton (chair) and Amherst College professor Betsy Garand