Monday, May 14, 2012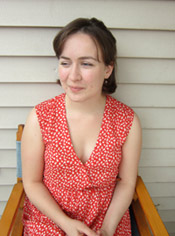 The work of Kelsey Rumley 08F is an excellent example of Hampshire's interdisciplinary approach, combining public health, epidemiology, and Chinese language studies.

Her Division III blends research and fieldwork with service to a rural community in the Anhui province affected by the AIDS epidemic. She completed a project on nutrition and pediatric AIDS, working with the Fuyang AIDS Orphan Salvation Association (AOS).

AOS is a grassroots nongovernmental organization established in 2004. Rumley connected with AOS through Asian studies professor Kay Johnson and Hampshire's China Exchange Program.

Her project is culminating in a nutrition education booklet for community health workers and caregivers working with children infected with AIDS

The Division III began with volunteer work undertaken during her Division II, when she worked in China for three weeks teaching English classes and helping to input data on HIV positive children into the AOS database.

She was able to return for a lengthier period for her final project thanks to a Denice O'Neill Award and a Culture, Brain, and Development grant, two Hampshire programs that help support Division III travel and research.

"Without their help here is no way that I could have afforded to travel to China twice during this year, and really no way that this project would have been possible," she says.

She worked with the offspring of "poor farmers who had to sell their blood to state run organizations in the 1990s," she says. When blood was donated, it was pooled by type, meaning that one HIV-infected donation could taint an entire blood type. "A lot of [the children] have HIV themselves and have lost a parent or two to AIDS. HIV and AIDS are highly stigmatized, seen as something you got from engaging in risky behavior. For former plasma donors, it's not the same kind of stigma, but it's still highly stigmatized."

When Rumley arrived at the village, AOS had just finished making a health and hygiene booklet for the HIV- and AIDS-infected population there. "The next step seemed to be another education tool teaching how to have a healthy diet," she says. "I was interested in the specific nutritional needs of kids growing up with AIDS. Any disease will affect nutritional needs. I was wondering specifically how HIV affects the absorption of nutrients."

With her Hampshire education, Rumley says she knew how to "work independently, think for myself, know what I wanted to do and how I was going to make that happen.

"I can make a change in the world, even if it's with this small population in China. I have the skills to create something that will hopefully improve the health of children living there," she says. "It's amazing to me."