Tuesday, May 15, 2012
Jamie Blair 08F's Division III (senior) project speaks to a privilege most Americans take for granted: citizenship.

Blair received a Global Migrations grant through Hampshire's School of Critical Social Inquiry, which funded a summer internship at the Centro Autónomo, a migrant community center in Chicago's Albany Park.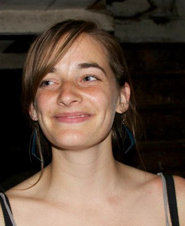 "Albany Park is one of the most diverse communities in Chicago, and is home to a growing population of Mexican migrants," she says.

In summer 2011, Blair coordinated volunteers, education, and outreach while also co-facilitating English as a second language three nights a week at the Center. She returned in January 2012 to continue her work, this time with a writing class.

"I threw myself into whatever was needed, and because I was always around, facilitating and being in the classes and the office I got to know so many people and really became part of that community," she says.

The experience in Chicago helped shape Blair's final project, an extensive essay on undocumented migrants in the United States, rethinking political subjectivity and rights outside of citizenship. Her project brings together ethnography from her time in Chicago, an array of social science scholarship, and political philosophy.

"By understanding the logic of the system that has created undocumented migrants as nonpersons in the U.S., it is possible to see citizenship as a device of exclusion," she says.

Sociology professor Margaret Cerullo played a large role in shaping Blair's Division III. "She's been amazing," Blair says. "In working with her over the year, she's shown me an intellectual, peer-to-peer respect. We excitedly send to each other the latest articles we've read and bounce ideas off of each other."

"At Hampshire, it's not just an intellectual engagement, it's an engagement of your whole being," she says. "We are taught to critically examine the world around us, and in such grapple with how we are implicated in the issues."

Division III title — "Convivencia: Disrupting the Citizenship Common-Sense and Exploring Politics from Beyond Nation-State Inclusion."