Friday, May 18, 2012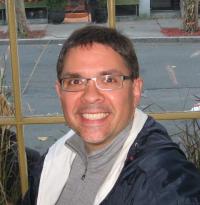 Hampshire College sociology and American studies professor Wilson Valentín-Escobar is the recipient of the 2012 Best Dissertation Award from the Latina/o Studies section of the Latin American Studies Association.

Valentín-Escobar received the award for his dissertation Bodega Surrealism: The Emergence of Latin@ Artivists in New York City, 1976-Present.
The work examines the cultural activism, or "artivism," of the New Rican Village Cultural Arts Center and El Puerto Rican Embassy, two community-based art programs that began in the 1970s in New York City's Lower East Side neighborhood.

The Latin American Studies Association is the largest professional association in the world for Latin American studies scholars. Valentín-Escobar will receive his award at the association's annual conference in San Francisco on May 25.

Valentín-Escobar holds a Ph.D. in American Studies from the University of Michigan, and is also a postdoctoral associate in the Ethnicity, Race, and Migration program at Yale University. His publications have appeared in Mambo Montage: The Latinization of New York City (Columbia University Press), Situating Salsa: Global Markets and Local Meanings in Latin Popular Music (Routledge Press), and the Puerto Rican studies journal Centro.

Valentín-Escobar worked previously in film and video production, had a non-commercial radio show, and was a recipient of several academic fellowships. Committed to community-centered scholarship, his research and teaching interests include American studies, U.S. ethnic studies, Latin@ and Puerto Rican studies, critical cultural studies, social and cultural theory, qualitative research methods, and oral history theory and methodology.