Tuesday, May 29, 2012
Ellen Van Benschoten 08F was already passionate about Germany when she arrived at Hampshire College. Thanks to a study scholarship from the German Academic Exchange Service, she'll spend the next year doing an independent study in that country.

About Deutscher Akademischer Austauschdienst (DAAD)/ German Academic Exchange Service >>

"I had fallen in love with Berlin when I was 18. I spent the summer there and knew I wanted to go back," said Van Benschoten, who graduated from Hampshire in May.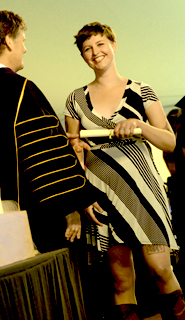 Van Benschoten was chosen to give a presentation at a Bauhaus seminar in Germany during her second year at Hampshire, one of ten international students to present there. Her subject was the Haus am Horn, an experimental residential house built for the first Bauhaus exhibition in 1923.

In her third year, Van Benschoten returned to Germany. For the second semester of that trip she was part of Hampshire's Berlin program, which included an independent study researching Holocaust memorials. That led her to her Division III (senior) project, which was titled "Reflections on Holocaust Remembrance." Looking at memorials throughout both Germany and Poland, Van Benschoten investigated the memorial cultures that predominated in the two countries as well as how they remembered the Holocaust.

"Being over there completely focused my Div III," she said. "I was still feeling out my interests when I arrived in Germany. My interest in space and architecture morphed into an interest in history."

Architectural and art history professor Karen Koehler chaired her Div III faculty committee, which also included history professor Jim Wald and literature and critical theory professor Mary Russo.

"Karen was great to work with. She's been my advisor since my first year, so I feel she understands me and I feel very comfortable talking to her," Van Benschoten said. "I've met privately with every professor I've ever had at Hampshire. They want to help students. I can't imagine not having that sort of relationship with faculty."

Van Benschoten will study at the Freie Universität Berlin in their history department. Much as she did at Hampshire, she will combine history with architecture.

"Hampshire trained me to look at things from an interdisciplinary perspective," she said. "I think I will be able to continue with that, as it seems to be a trend other institutions are starting to embrace."

The grant program is separate from a master's program, but Van Benschoten hopes to continue her graduate studies in Germany or another European country following her year of independent study. She says that getting into academia interests her, but she also is drawn to archiving and museum work. Whatever she settles on, she credits Hampshire with allowing her to pursue the studies that have gotten her on the right path.

"It's an amazing opportunity to do what we want, and have all these incredible resources," said Van Benschoten. "I feel I definitely had a lot of support. It's so helpful to have faculty members who are on your team and want to see you do good things."