Monday, June 25, 2012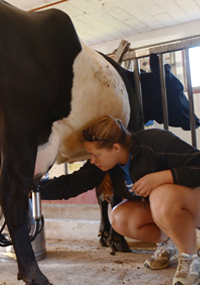 They head to the barns by 7 a.m. Cows are waiting for them—piglets and chickens, too. An hour or so later they'll cross the meadow to vegetable plots going into full June growth.

For the 12 students enrolled in Hampshire College's Food, Farm, and Sustainability Institute, it's a satisfying way to spend six weeks of summer.

Emily Cassel, a Chatham University student, learned of the summer program through a friend at Hampshire. "It was right in line with what I needed," she said. "I'm interested in food politics, so I want to understand the whole system in order to make policy. I want to understand different components instead of one narrow focus."

Cassel joined Claire Solomon, a Smith College student, in helping Hampshire's Farm Center director Leslie Cox attach a movable chicken coop to a tractor as one of the first tasks of the day, a task that lets the chickens naturally fertilize different plots of land across the farm.

"I work on a farm at home, and I wanted to learn more about organic farming," said Solomon.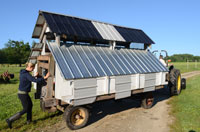 The summer institute is an intensive lesson in both the practical and theoretical aspects of farming. Whether milking a cow or learning in a classroom on the Hampshire campus about the processes used to turn that milk into cheese, students get a solid grounding in modern sustainable agriculture while earning college credits.

The program is an important addition to the regular fall to late spring college schedule that misses key parts of the growing season, Cox said. "Students in food and farming studies are usually here in the spring and fall, and never saw what happened in the summer. The idea was to bring people back to campus and show what summer is all about," he said, noting that it's also a great way to give students from other schools a taste of the "Hampshire flavor."

Night lectures, field trips to area farms, and a variety of weekend activities complement daily chores and classes.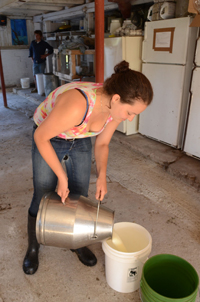 Among favorite features mentioned by students are communal lunches and dinners, where everyone chips in to turn local foods into a meal. "It's been a great summer," said Hampshire student Sophia Cook. "Cooking communal dinners is awesome. There's so much fresh produce, it's a real treat."

Next year, the summer Food, Farm, and Sustainability Institute will host two students from Anhui Agricultural University in China, thanks to a grant from the Henry Luce Foundation's Luce Initiative on Asian Studies and the Environment.

Their visit will be part of a larger 16-month project: The $50,000 Luce grant will support interdisciplinary connections built around a theme of food, sustainability, and climate change in East Asia. A group of Hampshire faculty in Asian studies and in the natural sciences will explore teaching and research possibilities that could build stronger curricular bridges. The Anhui Agricultural University, a longtime partner in Hampshire's China Exchange program, is particularly interested in learning how to develop an agricultural program within an undergraduate liberal arts curriculum, as Hampshire has successfully done for decades.