Saturday, May 19, 2012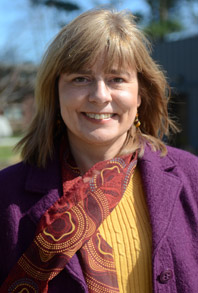 Professor Eva Rueschmann has been named vice president for academic affairs and dean of faculty at Hampshire College, effective July 1.

Rueschmann, a professor of cultural studies, has taught at Hampshire since 1994. She served from 2006 until 2011 as dean of the Center for Academic Support and Advising (CASA).

Her scholarly interests include cinema, with a focus on Australian and New Zealand film, and world literature. Her teaching includes courses on topics ranging from exile and migration in transnational literature and film to gender studies, film studies, visual culture, and cultural studies.

Rueschmann is the author of Sisters on Screen: Siblings in Contemporary Cinema (Temple UP, 2000) and editor of Moving Pictures, Migrating Identities (UP of Mississippi, 2003).

Prior to July 1, Rueschmann is working with biological anthropology professor Alan Goodman, who has served as interim vice president and dean of faculty since 2009, to ensure a smooth transition into her new role.

Professor Rueschmann holds Ph.D. and master's degrees in comparative literature from the University of Massachusetts Amherst. She received her B.A. in English and French languages and literatures at the Ruprecht-Karls University of Heidelberg in Germany.