Posted: February 19, 2013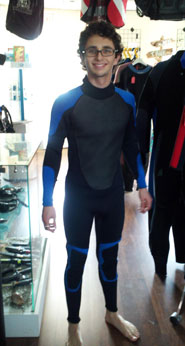 Amir Fogel 09F thinks the next 20 years will be "the most influential and life changing for everyone on earth. And a lot of it comes down to what happens with the oceans."

For his Hampshire College Division III (senior project), Fogel is making a documentary film about shark conservation. The film will include underwater footage of different kinds of sharks and shark behavior ? footage that Fogel is himself shooting. In order to enter a shark tank to film, he was required to have advanced training in rescue diving, which he completed through a program in Mexico as part of a semester abroad.

Fogel's film will portray conservation issues from all perspectives, including those of fishermen whose livelihoods are put in peril by stringent laws intended to protect sharks.

"There are a lot of conservation films out there about sharks and the ocean. They're very good, but they never look at the big picture," he says. "They never include fisherman. They're always just about protecting the sharks with no regard for human lives. It's not as simple as saying ?Let's protect these animals.'"

A balanced oceanic environment has implications beyond economics. Phytoplankton, microscopic plants in the ocean that Fogel describes as responsible for "turning half of the carbon dioxide on earth into oxygen," are being depleted as the atmospheric temperature rises, correspondingly raising the temperature of the ocean.

"There needs to be better education about ecosystems, how important ocean ecosystems are, for regulating all life on earth," Fogel says.

Fogel is now about halfway through the documentary, with plans to conduct more interviews. When the film is complete, he will submit it to film festivals. "It's not so much about competing in festivals as it is getting people to see the information that's in the film," he says. "I want to come up with a solution. Even if it's not the best one, it will be something to work with."

For his Div III project, Fogel is working closely with Professor Charlene D'Avanzo, chair of his faculty committee and recipient of the Ecological Society of America's 2012 Eugene M. Odum Award for excellence in ecological teaching.