Posted: February 25, 2013
By Michael Samuels 09F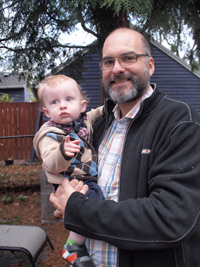 ParaNorman, the stop-action movie from Laika Entertainment, about a misunderstood boy who can see ghosts, was nominated for Best Animated Feature Film at this year's Oscars. The movie's credits include directors Sam Fell and Chris Butler, actors like John Goodman and Anna Kendrick, and Hampshire alum Duncan Gillis 94F.

"On ParaNorman I worked as a set dresser," he explains. "We start with all of the set pieces and various props which have been built for that scene, arrange them to camera, modify things if necessary to adapt to the needs of the crew and/or animator, and then add the final touches to bring it all together."

"It's a unique little movie," he adds, noting that it's a trailblazer in animation. The nomination vindicates risk-taking, something that Gillis values. "That culture of having the freedom to approach things from your own perspective, and in your own way, is the most important thing I took away from my time at Hampshire," he says.

Gillis concentrated in studio arts at the College, "supported by readings in semiotics, aesthetics, cultural theory, and comparative religion." After graduation, he stuck around for a year as the Arts Barn intern. In return for managing the Arts Barn, Gillis received a small stipend and a studio space. "It was probably my most productive year at Hampshire," he says.

From there, Gillis moved on to New York City. "I spent several years building mechanical window displays," he says, before getting a job making puppets for TV and theater at Puppet Heap, one of the leading puppet production studios in the country.

"A couple of years ago, some friends of mine started telling me about this opportunity to move out to Portland to work on stop-motion films," says Gillis. "That was something I had always wanted to do, so I jumped at the chance."

The opportunity was Laika, and Gillis joined ParaNorman's production team as a set dresser.

"I'm so proud of the small part I played," he says "All together, this movie took a lot of risks both thematically and aesthetically, and I think it's great that it's being recognized as a success."