Thursday, March 14, 2013
"My dream has always been to start a farm at an educational institution," says Tobin Porter-Brown 05F. "I figured I was going to have to move far away, and that it was going to take a long time."

Hampshire's Farm Center was an influential part of his college experience: "The Farm Center was a grounding force, providing both nourishment and inspiration, to my academic study. I worked with both the livestock and CSA operations and received a lot of valuable skills and experiences," he says.

In addition to learning at the Hampshire College Farm Center he also learned locally with Brookfield Farm Community Supported Agriculture.

Now, he's co-managing Book and Plow Farm, a recently launched project of Amherst College. Amherst is also a Five College consortium member along with Hampshire and with Mt. Holyoke, Smith, and the University of Massachusetts.

"There's a lot of excitement and good will behind this project, and it's really contagious," Porter-Brown says. He has been co-managing the Book and Plow Farm since January.

Porter-Brown says he hopes to have enough greens ready for Amherst's commencement and reunion weekends in May. After that, he has plans to expand production. "Our vision is to not just supply Amherst College, but to supply fresh, high quality produce to the entire Five College community," he says.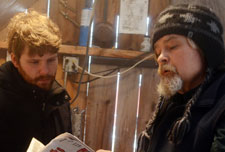 "What is so nice about a college farm is the balance between the heady academic work and the more physical, get-your-blood-pumping work. I would probably not be where I am today if it weren't for Hampshire's farm program," he says.

Photo:
Tobin Porter-Brown 05F (left) with Leslie Cox, Hampshire's farm manager.