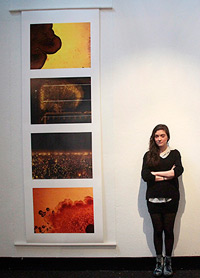 "I got to be the biologist, the archivist, the archaeologist, the photographer, and the artist for this project," says Quinn Berkman 09F.
Berkman's Division III used a process called microscopy to manipulate the mold on the surface of found photo negatives and develop them as images.

Berkman was presented with the negatives by a coworker while in New Orleans during January term 2012. The negatives featured no discernible images, nor were they traceable.

"I definitely dealt with hesitations about the morality behind using the negatives. I did research about potentially restoring them, but they're completely abstracted," she says, noting her intent was to extract beauty from the tragedy of Hurricane Katrina, rather than exploit it.

Berkman initially toyed with the idea of scanning the negatives, but found the results unsatisfactory. "I wanted more, I wanted to get more in there, and the scanner wasn't providing that power for me," she says. Instead, she went to Cole Science Center and sought out a camera that could be connected to a microscope, exposing the mold on the surface of the negatives.

Her curiosity piqued, Berkman went further and studied the mold with Associate Professor of Microbiology Jason Tor. "I started taking samples, putting them in petri dishes, and re-growing organisms and the mold that were stuck dormant on the negatives," she says. "I knew something was on there, that toxic flood water was sitting there for two weeks in certain parts."

For Berkman, who spent the bulk of her time at Hampshire studying photography and alternative education, reconnecting with science was a welcome surprise. "It was interesting to revisit science and biology. That was a lot of fun. I dusted that under the rug after high school," she says. "I never thought I'd be doing that, or working in the science building."

Her project culminated in an April gallery show of enlarged images taken with the microscope camera.

Berkman says the Div III opened her eyes to new forms of education. "I think that my favorite part has been coming to the understanding that there are so many ways to learn and acquire knowledge," she says.