By Michael Samuels 09F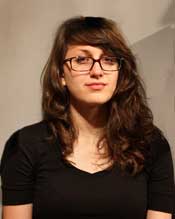 "Gabby's project demonstrates how important interdisciplinarity?a real integration of multiple approaches?can be across a student's trajectory of work at Hampshire," says childhood studies professor Rachel Conrad. Conrad and music professor Marty Ehrlich co-chair the faculty committee of Gabby Fluke-Mogul 09F, whose Division III project is astounding in its breadth.

when the night ended, it rained:: the politics & poetics of collective improvisation is made up of many parts.

Fluke-Mogul wrote an essay that brings together music theory, critical pedagogy, queer theory, and childhood studies. She taught violin to first- through third-graders at the Montessori School of Northampton, and facilitated the Open Box Collective, a weekly improvisational space for the Hampshire community. She created a series of "comprovisations," half-composed and half-improvised pieces of music. She incorporated her own poetry into that music, and made graphic musical scores that double as visual art.

Finally, she performed these comprovisations with 19 other Hampshire students, alums, and community members, sometimes joined by her Montessori students.

"I fused together my academic, community-engaged, and musical inquiries in a way that made sense to me as a learner," says Fluke-Mogul.

"Though strikingly interdisciplinary," Professor Conrad notes Fluke-Mogul's Division III "grew directly out of her Division II in childhood studies and music, so she was very well prepared to take her work to this level."

Professor Ehrlich introduced Fluke-Mogul to comprovisation, a term that he coined. "My experience engaging with his compositional techniques has profoundly influenced my life," she says. "From thinking about music, playing and collaborating with others, to composing and teaching, I have come to understand myself as a comprovisor."

Fluke-Mogul says her comprovisations are informed by the theoretical element of her Division III. "I do not wish to sterilize them through means of academic inquiry," she explains, "but to allow my interdisciplinary research to provide a further examination and exploration for myself as a human being as I continue to listen, learn, and create throughout my life."

After graduation, Fluke-Mogul plans to stay in the area. She will continue to teach at the Montessori School, work on various musical collaborations, and open the Open Box Collective to the wider Pioneer Valley community.