Tuesday, May 14, 2013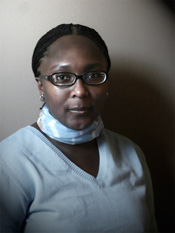 A $5,000 gift from Assistant Professor of German and Comparative Literature Alicia E. Ellis and artist and former visiting faculty member David H. Munson will be used to establish Hampshire College's new Humanities Research Book Grant.

"We had envisioned that this donation would fund a research grant to support humanities students who are just beginning their Division III work. It is meant to enhance the ability of students to conduct research at an advanced level and also support the library collection and fill any holes in its humanities collection," said Ellis.

The Humanities Research Book Grant will support humanities students' work on their Division III (senior) projects through individual grants to purchase books central to their studies. Grant applications will be considered by a committee of faculty members in the humanities and cultural studies. Grant recipients will be chosen based on the intellectual merit of the proposed work and their preparation for such work, the quality of their previous work during Division II, and the necessity of the texts or related media for the proposed topic.

The fund, Ellis added, will support these students and cultivate them as emerging scholars and members of an intellectual community that values their research and writing. She found that support is already demonstrated through offerings such as the David Smith Grant in American Studies, the Translation Studies Grant, and the annual Division III Conference in Humanities and Cultural Studies (now in its tenth year) at Hampshire College, but felt the need to address this particular area of need for students.

By starting the new grant fund, Ellis and Munson hope that current students, alums, faculty, and other members of the Hampshire community will see that the institution celebrates the intellectual activities of its students and will be similarly moved to support this fund and other initiatives in the liberal arts. Munson, in particular, would like to see it serve as a stepping-stone to establishing a Friends of the Hampshire College Library endowment.

"We wanted to accomplish several things with this research grant, on the student achievement level but also on the donor level, to cultivate a culture of giving," said Ellis.

Hampshire's Harold F. Johnson Library director Jennifer Gunter King said: "The library is thrilled that Alicia Ellis and David Munson have established a Humanities Research Book Grant. The gift will enable Division III students to access publications that are central to their work, when they are needed. Additional support like this grant is central to our ability to be responsive to community needs as they evolve. The grant also draws attention to how very critical books, and other publications, are for a Hampshire education."

Humanities librarian Bonnie Vigeland noted that a fund established by a humanities faculty member is a strong validation of the work that the library staff does with students, as providing support for student research is a core mission of the Hampshire library.

"We are very excited to see how this will expand the scope of students' Division III humanities research," she said.

Professor Ellis earned an M.A. in African-American Studies and a Ph.D. in German from Yale University. She is currently a post-doctoral scholar at the University of Chicago while on leave of absence from Hampshire.

Munson holds an MFA in Visual Studies with a concentration in printmaking from the University at Buffalo, SUNY. Munson started his advanced work at the Boston Museum School and then went on to teach Intaglio, bookmaking, printmaking, and letterpress.

For information on how to contribute to the Humanities Research Book Grant fund, please contact Hampshire College Director of Development Jeffrey Wolfman at jwolfman@hampshire.edu or 413.559.5638.