Friday, November 22, 2013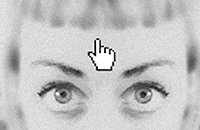 Hampshire student Mariel Nyröp 10F is a recipient of a Five College Digital Humanities Student Fellowship. The fellowships, part of the Five College Digital Humanities Program, are given to one student from each college and receive funding from the Andrew W. Mellon Foundation.

Nyröp arrived at Hampshire with an interest in computer science, and soon also developed a passion for digital art. Their fellowship project, which is also their Division III final project, ties together these two things—exploring the age of digital art and social media. The project is titled "Embarrassment Party" and studies the concept of embarrassment and how the digital age has transformed it.

Nyröp explains that "things are still up in the air" when it comes to the ownership of digital art, and that it can be difficult to determine who truly owns artwork once it is posted online. Social media has changed the concept of privacy over time, and there is more potential to be embarrassed by what we reveal about ourselves through the Internet. Nyröp hopes to build an online platform where people can communicate in an online think tank and explore these ideas. They also plan to arrange a mini-conference at Hampshire for artists to come speak about their work.

After they graduate, Nyröp plans to keep working in digital art and creating .gifs, videos, html-based work, and software-based work. They also hope that the platform they create will continue to thrive and generate new conversations.