Friday, February 7, 2014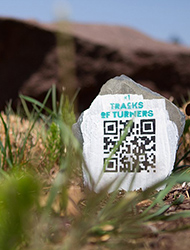 RJ Sakai 08F grew up surrounded by design and photography, and developed an interest in their effect on social issues. As a student at Hampshire College, Sakai studied design and anthropology. He began to make links between graphic design, tourism, and cultural authenticity—how the experiences of tourists are designed, and why people travel.

For his Division III (senior) project, Sakai did ethnographic research on Turners Falls—a small Massachusetts town known for its quirky events. One of the most well known events in Turners Falls is "Suzee's Laundromat Lost and Found Fashion Show," in which designers create outfits out of discarded clothing and use the washing machines as a runway. To complete his research, he collaborated with the nonprofit organization Turners Falls RiverCulture.

Through interviews with local business owners, Sakai discovered problems with how the town was perceived. Visitors would come to Turners Falls for its fun events, but would leave without paying attention to the small businesses in the area. Meanwhile, some business owners were struggling to make a living.

Sakai decided to tackle this issue with the aid of design and technology. In collaboration with RiverCulture, he started the project Turners Falls Encoded. For the project, he created a series of two-minute audio slideshows emphasizing the importance of businesses owners in Turners Falls. The stories were posted online to individual webpages. Sakai put QR codes on rocks using stencils, spray paint, and stickers, and placed the rocks around the town. Passersby could use the codes to access the online project with their cell phones. Maps and links on the webpages helped bring tourists' attention to local businesses.

Since then, Sakai has continued to be interested in how design can address social issues. As a student at IMPACT: Design For Social Change in summer 2013, he conceived of the project Notable Recommendations, which helps independent bookstores survive in the age of online book-buying. Currently, he is a full-time freelance designer and photographer and is applying to grad school programs.