Thursday, February 20, 2014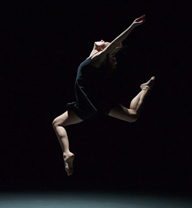 Hampshire College Dance Program, a part of the Five College Dance Department, attended the American College Dance Association's New England Festival this past weekend in Boston, MA.
Division III students, Ailey Picasso and Madison Palffy submitted solos to the Festival for adjudication. The adjudicators, knowing only the title and music selections of each piece had plentiful praise and appreciation for both pieces and selected Ailey Picasso's undigested logic to be featured in Sunday's Gala Concert. Of the eleven pieces in the Gala Concert, half were generated in the Five College Dance Department and both pieces selected to move to the National Festival at the Kennedy Center in Washington, D.C were Five College Dance Department works: How Did I Get Here from Smith College and Before/After from UMass Amherst. Picasso's undigested logic was chosen as an alternate piece for the National Festival. Palffy is an ensemble member in How Did I Get Here and will be headed to D.C in June.
First time achievements abounded as Allison Smartt 11F, Hampshire Dance Program Assistant and Mount Holyoke Dance Department Technical Director, presented a well received class: Sound for Performance. Students and faculty alike were challenged to describe sound and engaged in thoughtful discussion ab out the potential successes and failures of sound and music in dance.
Ailey Picasso and Madison Palffy will present more engaging work at their Division III Dance Concert, April 3 5, 2014 at 8 p.m. in the Main Dance Studio located in the Music and Dance Building on Hampshire College's campus.
Photography by Jim Coleman