Monday, March 3, 2014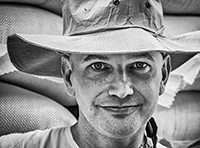 In the process of filmmaking, Hampshire College alum Jon Kitzen 86F says, "You never know what you're going to get." When he began working on the documentary The Lady in Number 6, Kitzen didn't know what the final product would be. He and the others working on the film only knew that they had an incredible story to tell. As they had a small budget, "It was mostly a labor of love," Kitzen says. "Everyone working on it wanted to be a part of it."

The 39-minute film, which won an Academy Award for Best Short Documentary, documents the story of Alice Herz-Sommer, who was the world's oldest pianist and oldest Holocaust survivor. When she and her young son were imprisoned in the Theresienstadt concentration camp, Herz-Sommer played more than 100 piano concerts for the other prisoners and the camp guards. She practiced piano daily until her death on February 23, 2014, at the age of 110.

Kitzen didn't expect the film to turn out so uplifting, and was pleasantly surprised when it came together that way. The Lady in Number 6 is not just about the dark times of the Holocaust, but about how music helped Herz-Sommer to survive, and how it continued to save her throughout her life.

As co-producer of the documentary, Kitzen was responsible for marketing the film and dealing with any legal issues. Through promotion, the film started gaining attention. Finally, it was nominated for a 2014 Academy Award for Best Short Documentary. Kitzen knew the odds of getting a nomination were good after the film was shortlisted in October, but he says it's an amazing feeling to actually receive the nomination.

Currently, Kitzen is working on another documentary with Nick Reed—one of the producers of The Lady in Number 6—called Soldier Stories. The film is the oldest 3D movie ever made, using a series of stereoscopic photographs taken during World War I. As there are no longer any living veterans of the first World War, the film is narrated by veterans of other wars, including actor Mickey Rooney. Soldier Stories is set to be released this summer in IMAX theaters.

Kitzen studied psychology at Hampshire, which got him interested in commercials—which, in turn, sparked an interest in filmmaking. "Filming is fraught with complications," Kitzen says. "It is a battle." But despite its challenges, the process can evidently have some surprising and inspiring results.