Thursday, March 10, 2011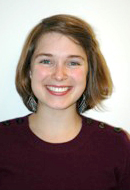 May graduate Marian Schmidt didn't have much time to enjoy commencement. The day Schmidt graduated, she left for the American Society of Microbiology's annual conference in New Orleans to present her Division III research.

Schmidt's Div III studies focused on magnetic bacteria, microorganisms that produce magnetic particles surrounded by a membrane inside of their cells.

It is hypothesized that this type of bacteria came to Earth attached to asteroids, meaning that they could potentially be extraterrestrial life. The possibility of life in space is one of the many intriguing applications of these bacteria. Magnetic bacteria also have theoretical medicinal uses.

"Since the bacteria produce organic nano-magnets, we can hypothetically use them to localize a drug in the body," Schmidt says. "If a drug is bad for one organ, but not the rest of the body, the nano-magnets [could be used] to direct the medicine." 

Magnetic bacteria could also prove useful for strengthening the contrast in magnetic resonance images (MRIs).

"We need time to understand how we can culture them in enormous batches so that we can hone in on these possible applications," Schmidt says.

Presenting at the annual conference is not the only American Society of Microbiology honor Schmidt's work has received: she was the 2011 Raymond W. Sarber undergraduatea award recipient. The award is given annually to one undergraduate and one graduate student who show research excellence and potential.

Schmidt's Division III faculty committee chair, Associate Professor of Microbiology Jason Tor, feels the recognition is well deserved. "Marian has maturity, patience, and persistence at an advanced level," he says. "Her enthusiasm and honesty are great qualities that will support her research. I am certain that she has a great future ahead of her as a research microbiologist."

Schmidt's post-Hampshire plans include climbing Mount Washington, running a half-marathon, and a research fellowship at Harvard University. "I'm going to question the biogeochemical cycling of sulfur," she says. "How is sulfur recycled from one organism to another?"

As she leaves the undergraduate world, Schmidt signs off with two simple words: "Thanks, Hampshire!"