Friday, March 14, 2014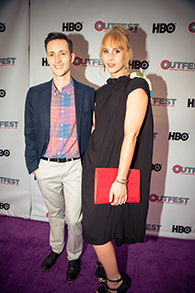 Work by Rhys Ernst 01S is featured in the Whitney Biennial, the prestigious survey exhibition that runs from March 7 to May 25 at the Whitney Museum of American Art's building at 945 Madison Avenue at 75th Street in New York City.

The Whitney Biennial is widely regarded as a trend-setting exhibition in the contemporary art world, described by the New York Times as a "barometer of the country's art." Founded in 1932, it has helped artists such as Georgia O'Keeffe, Jackson Pollock, and Jeff Koons rise to prominence.

The biennial features works selected by three curators, Stuart Comer (Museum of Modern Art), Anthony Elms (Institute of Contemporary Art, Philadelphia), and Michelle Grabner (the School of the Art Institute, Chicago).

"Relationship" is a photographic diary chronicling Ernst and his partner, Zackary Drucker, over the couple's five-and-a-half year relationship, during which Drucker was transitioning from male to female and Ernst from female to male. "The pictures are very personal, and the response has been really amazing. People have been really moved by them," Ernst said.

In addition to the photographic diary, Ernst and Drucker also collaborated on the short film She Gone Rogue. Ernst describes the film as "a fantastical, dream-like narrative," where "Darling," (played by Drucker) chases a lost love down a rabbit hole, encountering transgender archetypes played by legendary transgender performers Holly Woodlawn, Vaginal Davis, and Flawless Sabrina.

In addition to the Whitney selection, She Gone Rogue was also part of Made In L.A., The Los Angeles Biennial at the Hammer Museum, an exhibition similar to the Whitney Biennial, on the West Coast. Ernst's previous project, a short film called The Thing, was an official selection of the Sundance Film Festival.

Ernst will return to Hampshire on March 31 at 7 p.m. to screen three of his films (including She Gone Rogue, and The Thing) in room 120 of the Jerome Liebling Center.