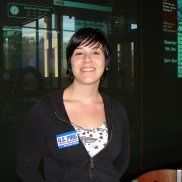 After graduating from Hampshire, Ilicia Balaban 04F entered the Fellows program with the U.S. Public Interest Research Group, a non-profit, non-partisan federation of state advocacy groups.
Fellows are given huge responsibility right off the bat. They take a lead role on key issues and are involved in the highest levels of decision making within the organization.

On November 10, 2008, Ilicia returned to the Hampshire campus to meet with students about U.S. Pirg. She set up in the library lobby and spent the day signing up interested fourth-year students.

Ilicia works for ConnPIRG as an advocate and field organizer. Most recently she has been working to increase funding for public transportation by media outreach, coalition building and direct advocacy with state and federal legislators.
U.S. PIRG provides recent graduates with an excellent opportunity to make a huge difference immediately after graduating. To find out more about how to apply for positions like Ilicia's visit www.uspirg.org/jobs or contact Ilicia directly.