Robert Litterman, Keynote Speaker at Dinner on April 3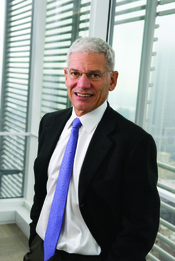 Robert Litterman is the chairman of the Risk Committee and Academic Advisory Board at Kepos Capital LP. Prior to joining Kepos Capital in 2010, Litterman enjoyed a 23-year career at Goldman, Sachs & Co., where he served in research, risk management, investments, and thought leadership roles. He oversaw the Quantitative Investment Strategies Group, a portfolio management business formerly known as the Quantitative Equities and Quantitative Strategies groups, and Global Investment Strategies, an institutional investment research group.
While at Goldman, Litterman also spent six years as one of three external advisors to Singapore's Government Investment Corporation (GIC). Bob was named a partner of Goldman Sachs in 1994 and became head of the firm-wide risk function; prior to that role, he was co-head of the Fixed Income Research and Model Development Group with Fischer Black. During his tenure at Goldman, Litterman researched and published a number of groundbreaking papers in asset allocation and risk management. He is the co-developer of the Black-Litterman Global Asset Allocation Model, a key tool in investment management, and has co-authored books including The Practice of Risk Management and Modern Investment Management: An Equilibrium Approach (Wiley & Co.).
Litterman earned a Ph.D. in economics from the University of Minnesota and a B.S. in human biology from Stanford University. He is also the inaugural recipient of the S. Donald Sussman Fellowship at MIT's Sloan School of Management and serves on a number of boards, including Commonfund, the Sloan Foundation, and World Wildlife Fund.
Jonathan Greenblatt, Keynote Speaker at Breakfast on April 4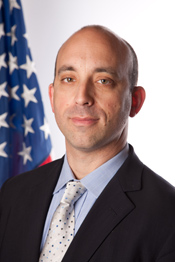 White House staff member Jonathan Greenblatt is the Special Assistant to the President and Director of the Office of Social Innovation and Civic Participation in the Domestic Policy Council. In this role, he is leading the Office's efforts to leverage human capital and financial capital to elevate community solutions. This portfolio includes issues such as national service, civic engagement, impact investing, and social enterprise.

Before joining the White House, Jonathan founded the Impact Economy Initiative at the Aspen Institute, a program focused on the nexus of public policy and impact investing. He served as an operating partner at Satori Capital, a private equity firm focused on conscious capitalism, and was an active angel investor. He also served as a member of the faculty at the Anderson School of Management at UCLA where he developed and taught its coursework on social entrepreneurship.

Jonathan has been described as a serial social entrepreneur. Among his accomplishments, Jonathan co-founded Ethos Brands, the business that launched Ethos Water, the premium bottled water that helps children around the world get clean water. In 2005, Starbucks Coffee Company acquired Ethos Water, making it one of only a handful of non-coffee businesses the company has purchased in its 40 year history. Following the acquisition, Jonathan served as Starbucks Vice President of Global Consumer Products, scaling Ethos across the US. Greenblatt also co-founded Ethos International and served on the board of directors of the Starbucks Foundation where he developed Ethos' global investment strategy that has invested millions of dollars to bring clean water to communities in need around the world, including Bangladesh, the Democratic Republic of Congo, Ethiopia, Honduras, India and Kenya.

Jonathan also founded All for Good (AFG), the open source platform developed to enable more Americans to serve. AFG is the largest aggregation of volunteer opportunities on the web and is supported by a coalition of leading companies, nonprofits and government agencies, all of whom shared a vision of using open data to increase the number of Americans that participate in service and volunteerism. In 2011, AFG was acquired by the Points of Light Institute.

Jonathan also formerly served as CEO of GOOD Worldwide. He led its transition from a publishing company to a diversified media company. Its products include the popular website GOOD.Is and the award-winning GOOD Magazine.

In addition to these operating roles, Jonathan has been an active board member of numerous businesses and nonprofit organizations. He also served as an aide in the Clinton White House and the Department of Commerce where he developed international economic policy with a focus on emerging markets and post-conflict economies. Before joining the Clinton Administration, Greenblatt worked in Little Rock, Arkansas on Gov. Bill Clinton's first successful Presidential campaign in 1992.

Greenblatt earned an MBA at the Kellogg Graduate School of Management at Northwestern University and graduated cum laude with a BA from Tufts University. He is a Henry Crown Fellow of the Aspen Institute and a Next Generation Fellow of the American Assembly.
Confirmed Expert Conversation Catalysts Participating in Program Agenda
Susan Gary is a professor at the University of Oregon School of Law. Her teaching and research interests include nonprofit organizations, trusts and estates, and estate planning. She has written and spoken about the regulation of charities, the definition of family for inheritance purposes, and the use of mediation to resolve disputes in probate and during the estate planning process. She has been involved in establishing the law school's Probate Mediation Clinic and Nonprofit Clinic and serves as faculty supervisor of the Nonprofit Clinic. Before entering academia she practiced with Mayer, Brown & Platt in Chicago, and with DeBandt, van Hecke & Lagae in Brussels. She received her B.A. from Yale University and her J.D. from Columbia University.

Professor Gary is an academic fellow and regent of the American College of Trust and Estate Counsel. She served as the reporter for the Model Protection of Charitable Assets Act and the Uniform Prudent Management of Institutional Funds Act, projects of the Uniform Law Commission. She has served as a member of the advisory board of the NYU National Center on Philanthropy and the Law, and holds or has held leadership positions in the Association of American Law Schools, the Real Property, Trust and Estate Section of the ABA, and the Oregon State Bar.

Keith Johnson heads the Institutional Investor Legal Services team at Reinhart Boerner Van Deuren s.c. Attorney Johnson represents pension funds and institutional investors on fiduciary, investment, securities litigation, and corporate governance program matters. He is also program director of the Wisconsin International Corporate Governance Initiative at the University of Wisconsin Law School, where he served as an adjunct professor of law.  Johnson has published a number of articles on pension fund and institutional investor issues. He regularly presents on fiduciary and investment topics at pension fund, legal, and investor conferences in the United States, Canada, Europe, and Asia.
Thomas Kuh is business director of MSCI ESG Indices. Dr. Kuh was a research analyst at KLD from 1992 to 1995, evaluating the social and environmental records of companies and consulting on related issues with institutional money managers and investors. From 1995 to 1998, he was product manager for SOCRATES, the first database application providing social investment research and portfolio screening tools. From 1998 to 2004, he was director of business development at KLD. From 2000 to 2006, Dr. Kuh served on the board of directors of the Social Investment Forum, a US industry trade organization. In 2004, he was elected to the board of directors of Sustainable Investment Research International (SiRi) Company, a global network of social investment and sustainability research companies.

Dr. Kuh received his M.A. and Ph.D. in conomics from the University of Massachusetts Amherst. Prior to working at KLD, he was a professor of economics at Simmons College from 1986 to 1992 and a teaching fellow at Harvard University in the department of economics from 1983 to 1986.
Ken Locklin is a managing director for Impax Asset Management (US) LLC. He is the U.S. policy advisor, responsible for supporting the investment team and helping build Impax's business in North America. Ken has 30 years of finance experience and a 20 year commitment to clean energy enterprise investment, development, management, and finance. Before joining Impax, Ken worked as the director of finance and investment with the Clean Energy Group (CEG) and worked with NGO Ceres to advise the Investor Network on Climate Risk. Prior to this, he acted as a founding member of the Massachusetts Green Energy Fund management team and was a Partner at EIF Group. Ken is a founding co-chair of the Finance Committee of the American Council on Renewable Energy (ACORE), the leading US renewable energy umbrella organization. He is a graduate of Yale University.
Chris McKnett is a vice president of ESG Investing at Boston-based State Street Global Advisors, the world's largest institutional investment manager. He is the functional head for the firms' global environmental, social, and governance (ESG) investment business, with US$ 60 billion under management. McNett works across asset classes and investment teams to champion sustainable investment on behalf of SSgA and its clients. His primary responsibilities include analyzing ESG trends and producing thought leadership, product management, competitive analysis, and business strategy. Much of his work consists of engaging with portfolio managers, researchers, client-facing personnel, and senior SSgA executives to build the business case for ESG investing and leverage resources to create solutions. McNett regularly meets with clients and prospective clients and investment consultants and speaks at industry events.
Lynn Pasquerella is the president of Mount Holyoke College. She is a philosopher and ethicist whose career has combined teaching and scholarship with local and global engagement. She graduated from Mount Holyoke College in 1980 and earned a Ph.D. in philosophy from Brown University in 1985. Pasquerella joined the department of philosophy at the University of Rhode Island, rising rapidly through the professorial and administrative ranks to the position of vice provost for academic affairs and dean of the graduate school. In 2008 she was named provost at the University of Hartford. In 2010, her alma mater named her the eighteenth president of Mount Holyoke College.

Pasquerella has written extensively on medical ethics, theoretical and applied ethics, metaphysics, public policy, and the philosophy of law. A celebrated teacher, she has found time to co-teach a class in almost every semester of her presidency, with faculty in departments as disparate as sociology, biology, and Africana Studies. As president, she has focused especially on strategic planning, shared governance, long-term financial sustainability, access for students from all socioeconomic backgrounds, and increased visibility for Mount Holyoke across the nation and around the world. At the core of her career and her priorities is an abiding commitment to liberal education as a force for good, both for the individual and for civic society.
Jonathan D. Scott is a senior member of the management team at Veritable, LP, whose origins go back to 1986. Veritable is an SEC registered investment advisor providing objective after-tax investment consulting to more than 200 families with approximately $11.6 billion dollars. Jonathan created the Family Wealth Management business at PNC Bank in 1993 and was instrumental in PNC's acquisition of Stolper & Co. in 1997. This eventually led to the creation of Veritable when PNC sold the practice to management in 2004. Earlier in his career, Jonathan specialized in the valuation and management and/or disposition of closely held businesses and other illiquid assets in trusts and estates.

He serves as the treasurer of and is a trustee for The National Recreation Foundation and as a director of The Finance Company of Pennsylvania, a closely held investment company. Jonathan holds a B.A. from Hampshire College, where he was a member of the college's first class. He was a trustee of the college for 8 years and as the head of the investment committee, was responsible for the team that drafted and implemented the current ESG investment policy.
Timothy Smith serves as senior vice president of Walden Asset Management's Environment, Social, and Governance Group. His primary responsibilities include overseeing shareholder advocacy, public policy, assisting in client services, and acting as the spokesperson for Walden on social issues. Walden Asset Management manages approximately $1.7 billion for individual and institutional clients. Walden has been a national leader in responsible investing for over 35 years working on dozens of issues such as the environment, sweatshops and climate change, Apartheid in South Africa, executive compensation, corporate governance, and equal employment opportunity in the U.S., among others.

Previously, Smith served as executive director of the Interfaith Center on Corporate Responsibility (ICCR) for 24 years. ICCR co-ordinates action for some 275 religious institution investors bringing social concerns to corporations' attention and assisting religious investors with their responsible investing decisions. He has a master's in divinity from Union Theological Seminary and a B.A. from the University of Toronto.
Jay Youngdahl is a partner in The Youngdahl Law Firm, where he represents a number of labor-affiliated benefit funds. At Harvard University he is a Network Fellow at the Edmond J. Safra Center for Ethics and a Senior Fellow at the Initiative for Responsible Investment in the Hauser Institute for Civil Society. He is co-chair of the board of trustees and chair of the Investment Subcommittee of the Middletown Works Hourly and Salaried Union Health Care Fund, which provides health insurance to nearly five thousand retired steelworkers and their families. Jay has written extensively on investment and pension issues, including the history and meaning of fiduciary duty, the importance of values in investment activities, the tasks of investment consultants, and the responsibility of trustees in benefit plan governance. Jay has a B.S. from the University of Houston, a J.D. from the University of Texas at Austin, an M.A. from St. John's College, and an M. Div. from Harvard University.