Karen Koehler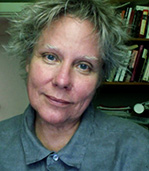 Karen Koehler, professor of architectural and art history at Hampshire College, and visiting professor in the Five Colleges, is also a member of the Five College Architectural Studies Council. She teaches courses in modern and contemporary art, architecture and design, with a special emphasis on connections between art, literature, critical theory, and socio-political history. Karen received her B.A. in English literature and M.S. in library science from the University of Illinois in Urbana-Champaign, her M.A. in art history from the University of Massachusetts in Amherst, and an M.F.A. and Ph.D. in art and archaeology from Princeton University.

Professor Koehler has done visual and archival research in Berlin; Weimar; Dessau; Paris; Bern; Munich; London; New York; Chicago; and Cambridge, Massachusetts, and has published extensively on twentieth-century art and architecture, with a concentration on the role of exhibitions in the history of art. Her work questions the relationships of art and exile, translation and perception, and the interactions of architecture with other forms of cultural expression, as in her edited volume The Built Surface: Architecture and the Pictorial Arts from Romanticism to the 21st Century (London: Ashgate, 2001). In 2012, Professor Koehler took part in a series of workshops and symposia on "Revival: Utopia, Identity, Memory" at the Courtauld Institute for Art, London; and in 2011 with Eve Blau (Harvard University) she chaired a session on "Architectural Exhibitions in/as Critique" at the College Art Association Conference in New York. She has most recently published catalogue essays for the exhibitions The Small Utopia: Ars Multiplicata (Foundazione Prada, Venice, 2012) and The Mad Square: Modernity in German Art 1910-1938 (Art Gallery of New South Wales, 2011) and was a contributing editor to the Mead Collection Handbook (Mead Art Museum, Amherst College, 2011). Her contribution to the conference "Bauhaus Palimpsest: The Object of Discourse" at the Harvard University Art Museums was published in Bauhaus Constructs (Routledge, 2009).

Professor Koehler's museum work began as curatorial assistant at the University Museum of Contemporary Art at the University of Massachusetts, where she contributed to shows on Barnett Newman, Martin Puryear, Chris Burden, and other American artists. More recently, Professor Koehler was faculty curator and sole author of the catalogue for Bauhaus Modern at the Smith College Museum of Art (2008), an important exhibition that contributed new thinking on the complexity and diversity of Bauhaus art and history, while challenging assumptions about the mass production of modernist objects and images. She is currently at work on two books, a survey of the Bauhaus for Phaidon Press, and an intellectual history of the German architect Walter Gropius, including his exhibition designs in New York, Berlin, Weimar, London, and Paris.
---

Christoph Cox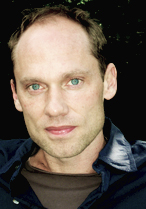 Christoph Cox, professor of philosophy, received his B.A. in modern culture and media from Brown University and a Ph.D. in the history of consciousness from the University of California, Santa Cruz. Professor Cox teaches and writes on 19th- and 20th-century European philosophy and cultural theory.

He is the author of Nietzsche: Naturalism and Interpretation (University of California Press, 1999) and co-editor of Audio Culture: Readings in Modern Music (Continuum, 2004). Cox is editor-at-large for Cabinet magazine, writes regularly for Artforum and The Wire, and has published philosophical essays in the Journal of the History of Philosophy, the Journal of Visual Culture, Organised Sound, International Studies in Philosophy, The Review of Metaphysics, and elsewhere.

Cox has curated exhibitions at the Contemporary Arts Museum Houston, The Kitchen, New Langton Arts, and G Fine Art Gallery. Cox has written catalog essays for exhibitions at the Whitney Museum of American Art, the Museum of Modern Art, Mass MoCA, the South London Gallery, Berlin's Akademie der Künste, the Museum of Contemporary Photography, the Oslo Kunstforening, and other venues.

He is currently at work on two books: a monograph on sound art, experimental music, and metaphysics; and an edited volume on aesthetics and the new realist and materialist philosophies.
---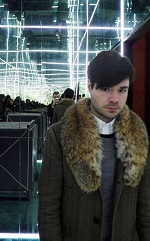 Bradley M. Bailey
Bradley M. Bailey, E. Rhodes and Leona B. Carpenter Postdoctoral Curatorial and Teaching Fellow in Japanese Prints at the Mead Art Museum, Amherst College, received both his undergraduate and graduate degrees in the history of art from Yale University. In addition, he holds an MBA from the Yale School of Management, where he was the G. Harold Welch Fund Merit Scholar, focusing on not-for-profit and museum administration. In the past he has curated exhibitions for Recession Art, the Yale University Art Gallery, and the Mead Art Museum, which have focused on a wide range of material, including Japanese art, Conceptual and Post-Minimal art, and Contemporary art and design. In 2010, he was the Hilla Rebay Graduate Fellow at the Solomon R. Guggenheim Foundation, where he worked in the Department of Institutional Development. In the past, he has received numerous awards and grants from organization both in the United States and abroad, including The Yale Center for British Art, The Richard Upjohn Light Fellowship for East Asian Language, Yale University, The United States Department of State, Amherst College, and the Fukutake Foundation.
Prior to his arrival at the Mead, Bradley worked at the Yale University Art Gallery as both the Japan Foundation Curatorial Assistant and the Rose Herrick Jackson Curatorial Assistant, in the departments of Asian Art and American Decorative Arts, respectively. He was also appointed Yale University's head teaching fellow in the history of art department.
His research interests include Japanese art from the 18th to 20th centuries, especially the Meiji Period and Japanese Imperialism, Western collections of Japanese art and artifacts, the influence of East Asian art and thought on Western art practice, and the importation of Western-style oil painting and sculpture in Japan. While at the Mead, he has curated several exhibitions, including On The Glorious Stage of Death: The Attack on Port Arthur in Japanese Prints, An Unblemished Mirror of Truth: Kyohei Inukai, Robert Brackman, and Portraits of American Tragedy, Nature, Pleasure, Myth: Animals in the Art of Japan and Pain's Pyrotechnic Spectacle: The Sino-Japanese War in Print, which was supported by the Institute for Curatorial Practice.
At present, he is working on a translation of the complete writings of Aoki Shigeru, a Meiji-era Romanticist painter, and is in the early stages of a historical survey of the relationship between Italy and Japan, from the 16th to the 20th centuries. He is also organizing Unimaginable by One Mind Alone, an upcoming exhibition in which contemporary artists will "complete" the fractured and orphaned panels of Japanese print polyptychs.
---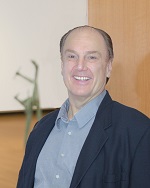 John R. Stomberg
A career teaching museum professional, John R. Stomberg is the Florence Finch Abbott Director of the Mount Holyoke College Art Museum and the Joseph Allen Skinner Museum as well as lecturer in art in the college's art history department. Before joining Mount Holyoke, Stomberg spent nine years in leadership positions at the Williams College Museum of Art. Starting as associate director for administration and programs, he rose to deputy director and chief curator. At Williams too he taught on the history of photography and as a member of the team-taught survey of Western art. From 1996-2002, Stomberg led the Boston University Art Galleries, first as assistant director and then as director. His post at Boston University also included teaching in the art history department in the College of Arts and Sciences and the Graduate Program in Painting in the College for the Arts. His areas of academic interest focus primarily on the intersection of art and culture since 1900. Moving between photography, prints, paintings, sculpture, media art, and installation work, his exhibitions have been conceived to broaden our understanding of how art operates in, and often shapes, society.
---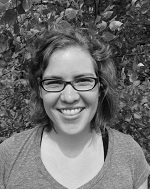 Jocelyn Edens
Jocelyn Edens is the Kress Curatorial Fellow at Hampshire College. She is a recent graduate of the Center for Curatorial Studies at Bard College, where she developed an exhibition and mobile app that propose an infrastructure for adaptive, collaborative, and local models of arts-led economic development in New York's Hudson Valley. Prior to studying at CCS Bard, she was the curator of education at the Coleman Center for the Arts, a contemporary art organization in rural Alabama that commissions public projects in partnership with visiting artists and area residents. She received her B.A. from Hampshire College in 2010.
---
Guest Lecturers

Angelina Altobellis
Archivist and Collections Curator, Hampshire College
Angelina Altobellis is the Archivist and Collections Curator at Hampshire College. Prior to joining Hampshire, she was the Digital Archivist at Rollins College in Winter Park, Florida, where she established a web archiving program and developed workflows to preserve and provide long-term access to digital content. Angelina is a member of the consulting team for the Finca Vigía Foundation, working with the Museo Hemingway in Havana, Cuba on digital preservation and metadata for the museum's digital collections. She received her B.A. in art history from UMass-Amherst, her M.A. in comparative literature from the University of Texas-Austin, and her M.L.I.S. from Simmons College.
---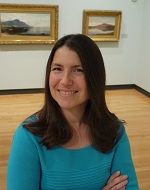 Ellen Alvord
Head of education and Weatherbie Curator of Academic Programs, Mount Holyoke College Art Museum
Ellen M. Alvord is the Head of Education and Weatherbie Curator of Academic Programs at the Mount Holyoke College Art Museum. Her previous experiences in arts education include positions at the Yale University Art Gallery, the Smith College Museum of Art, the Guggenheim Hermitage Museum, and the Las Vegas Art Museum. Ms. Alvord holds a Master's degree in Museum Education from The College of William and Mary, and a BA from Mount Holyoke College. In her current position, she collaborates with faculty from a wide range of academic departments to develop engaging, cross-disciplinary experiences for students with original works of art. She also organizes faculty seminars related to object-based learning and creativity as part of a Museum initiative to develop transferrable life skills in college students. Ms. Alvord has presented at academic museum conferences on her work collaborating with biological sciences faculty, MHCAM's Creativity Initiative, and teaching and learning with art. Along with Linda Friedlaender of the Yale Center for British Art, she is co-author of "Visual Literacy and the Art of Scientific Inquiry: A Case Study for Institutional and Cross-Disciplinary Collaboration," which appeared in A Handbook for Academic Museums: Exhibitions and Education, published in 2012.
---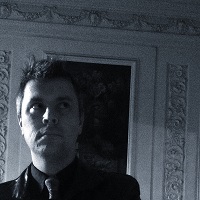 Neil Young Cloaca
Neil Young Cloaca (b. 1976) makes music, nonmusic, moving images, and events.
Composing and improvising with intentionally-unstable electroacoustic systems of his own devising, Cloaca regularly dances with failure under the Bromp Treb moniker. Since 2002, he has been a member of art rock quintet Fat Worm of Error, producing and releasing recordings on various independent labels and touring North America, Europe, and the UK.

His moving image work draws upon diary, travelogue, and poetic forms that are aggressively-manipulated, disorienting observations and distortions of truth in memory. His work has been screened in microcinemas, schools and independent art centers in North America and Europe.
Since the late 90's, Cloaca has been programming experimental art events and building enthusiastic audiences. Projects have included performance and screening series such as the Bright Rectangle (1999 - 2003), the Montague Phantom Brain Exchange (2008 - 2011), Phantom Erratic (2011 - ongoing) and The Peskeomskut Noisecapades (2011 - ongoing), an outdoor winter landscape sound/performance festival held on ice.
In 1999, he received his B.A. from Hampshire College for his studio work in film/video and poetry. He lives in Western Massachusetts, North America.
---

Aprile Gallant
Curator of Prints, Drawings, and Photographs, Smith College Museum of Art
---
Deborah Goffe
Deborah Goffe (BFA in Modern Dance from the University of the Arts, MFA in Dance Performance/Choreography from California Institute of the Arts) is a performer, choreographer, dance educator, performance curator, and intermittent video artist. She is Founder/Director of Scapegoat Garden, a Hartford-based collaborative dance theater, driven to create compelling, interdisciplinary performance that goes in through the nose, eyes, skin, ears and mouth to stir those who witness or participate. Through its performance works, community engagement activities, and its laboratory for creative process at The Garden for Contemporary Dance, Scapegoat Garden has demonstrated its commitment to forging relationships between artists and communities, helping people see, create and contribute to a greater vision of ourselves, each other, and the places where we live. For Deborah, this life-long devotion to the revitalization of local dance eco-systems has manifested in an ever-evolving relationship to performance curation, beginning with her earliest collaborations to produce Drink to This: Performance, Coffeehouse, Art Exhibit and Literary Magazine (1996-99), and continuing with her more recent development of a Performance Salon Series at The Garden Center for Contemporary Dance (2011-14).  From 2011-2012, Deborah served as Co-founder/Coordinator the Homegrown Dance initiative, working closely with area dance-makers to re-envision the Greater Hartford dance community. In 2013, Deborah earned a Professional Certificate from Wesleyan University's Institute for Curatorial Practice in Performance.  Most recently, Deborah has embarked on a new journey as Assistant Professor of Modern/Contemporary Dance here at Hampshire College where she is excited to expand her experience of dance and place in this new context.
---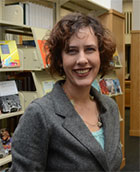 Jennifer Gunter King

Jennifer Gunter King is the director of the Library at Hampshire College. She serves as chair of the Five College Librarians Council and chair of the Library Learning Commons Ad Hoc Steering Committee. Prior to joining Hampshire, King was director of Archives and Special Collections at Mount Holyoke College (2004-2012), where she initiated programs including an online digital archive, electronic records archiving, campus-wide exhibitions and programming. King has held positions in special collections at Virginia Tech and the University of Virginia. She earned her B.A. in history from the University of Maryland Baltimore County, and her M.A. in history and M.L.S. (archives concentration) from the University of Maryland. King's interests include digital curation, 21st century library design, curatorial practices, and advancing the accessibility of archival resources.
---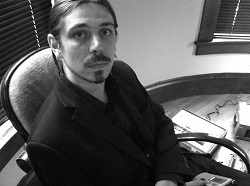 Matt Krefting
Matt Krefting is a writer and musician based in Holyoke, Massachusetts. He is a regular contributor to The Wire and his written work appears in surround, Bull Tongue Review, The Huffington Post, and chapbooks of his work have been published by Kendra Steiner Editions and Glass Eye Books. Another Night on the Town, a collection of Krefting's poems with drawings by Belgian artist Dennis Tyfus, was published in 2014 by Ultra Eczema.
He formed the long-running experimental trio Son of Earth with Aaron Rosenblum and John Shaw in 2000, played bass in The Believers, and performs with Idea Fire Company and Orchid Spangiafora. He performs regularly in the United States and in Europe. His music has been released by Open Mouth, Ultra Eczema, Ecstatic Peace!, and Kye, among others.
Krefting earned his BA from Hampshire College, where he studied experimental music and literature. He organized countless musical events at Hampshire and at the Flywheel Arts Collective, booking shows for Joe McPhee, Chris Corsano, Sonic Youth, Arthur Doyle, Christina Carter, Michael Hurley, Six Organs of Admittance, Double Leopards, and many more.
---
Sara Greenberger Rafferty
Sara Greenberger Rafferty has exhibited widely since 2001, including solo exhibitions at The Kitchen, New York; MoMA PS1, New York. In 2014, she participated in the Whitney Biennial, screening a short video entitled Mono featuring the actor Susie Sokol; the Hammer Biennial as part of Public Fiction's engagement with "tragedy plus time"; and had a solo exhibition at Fourteen30 Contemporary Art in Portland, Oregon. In 2015 her work is included in museum exhibitions at the San Diego Museum of Contemporary Art and the Atlanta Center of Contemporary Art. Her work is included in the collections of the Museum of Modern Art and Whitney Museum of American Art, among others. From 2005-2007, she was the co-editor of North Drive Press, and she has curated exhibitions and screenings in a number of contexts.
---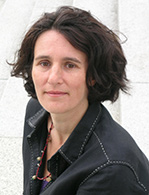 Anna Schrade
Anna Schrade is currently lecturer at the University of Massachusetts and Five College Associate. She received an M.A. in cultural anthropology from the University of Munich and a Ph.D. from the Institute of Cultural Studies at the University of Bremen in Germany. Since 2006 she is affiliated to the Iwalewa-Haus, Museum of Contemporary African Art at the University of Bayreuth, Germany, where she conducted a research project on ?New Media Art in South Africa' and became particularly interested in questions of cross-cultural exhibiting and the poetics and politics of museum displays in post-imperial societies.

Anna Schrade curated or co-curated the exhibitions Crossing Munich: Orte, Bilder und Debatten der Migration (Kulturreferat München 2009), Spuren: Neue Arbeiten von Christophe Ndabananiye (Iwalewa-Haus 2010), AfroSat I (Iwalewa-Haus 2010), Mine: A Selection of Films by South African Artists (Iwalewa-Haus 2010), and AfroSat II (Iwalewa Haus 2012).
---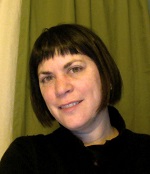 Sara Smith
Sara Smith is the Arts & Humanities Librarian at Amherst College, and editor of KINEBAGO, a publication devoted to New England dance and movement-based performance. She is a 2015 creative research fellow at The American Antiquarian Society. Sara has received support for her interdisciplinary work from The LEF Foundation, Massachusetts Cultural Council, Maine Arts Commission, Mary Duke Biddle Foundation, and the North Carolina Arts Council, and residency fellowships from The MacDowell Colony and Yaddo. She holds a BA from Hampshire College, an MFA in Dance from Sarah Lawrence College, and an MLIS from Simmons College. 
---

Kendra Weisbin
Assistant Curator of Education, Mount Holyoke College Art Museum
---

Loretta Yarlow
Director of the University Museum of Contemporary Art, Fine Art Center, University of Massachusetts, Amherst
---
Tim Zimmerman
Timothy (Tim) D. Zimmerman is a visiting assistant professor of cognition and education Hampshire College. His research focuses on the learning and teaching of ocean and environmental science concepts in non-school spaces. In particular, he seeks to understand the nature of learning across formal and informal contexts. To achieve this, Dr. Zimmerman combines qualitative and quantitative methodologies to study learning as people move spatially and temporally across informal-formal learning context boundaries at museums, aquariums, outdoor, and other informal learning contexts. He has worked, volunteered, or conducted research at many different informal learning institutions such as the Monterey Bay Aquarium, New York Aquarium, and the University of California Berkeley's Lawrence Hall of Science. He has also worked or volunteered for organizations such as the Massachusetts Audubon Society, the National Geographic Society, and several parks and recreation systems. Prior to his arrival at Hampshire, he was an assistant professor of science education at Rutgers University. Dr. Zimmerman holds bachelor's and master's degrees in marine biology, and received his Ph.D. from the University of California, Berkeley in science education.
---