For third-year student Brecklyn Walters, Hampshire College is a gateway to Cuba. When she studied abroad on the island nation last spring, questions of identity, place, and belonging loomed large. It was just the sort of college experience Walters had been seeking.
"For me, Cuba was less about going to some faraway place to find an answer to my academic questions than about recognizing and negotiating the challenges of living in, but always being outside of, a given place and my own limits of understanding as a result," she explains.
Walters traveled to Cuba last spring as part of her Division II study. In Div II, Hampshire students develop an academic concentration guided by their own interests and goals. Study abroad, internships, and field study often play a part.
"My Division II most broadly is about the experiences of African-descended people in the diaspora and the social and political frames they have historically worked with and rebelled against," says Walters. Cuba provided her a perfect study opportunity. "I understand Cuba to be a unique case through which we might better understand ideas of blackness, nationality, and identity formation," Walters explains.
Hampshire is one of only a handful of U.S. colleges with academic programs in Cuba. "Hampshire's unique academic program in Cuba immerses students in day-to-day life in La Habana," says Vanessa Paulman, assistant dean of global education. "Students live in Cubans' homes; do independent, self-designed projects with Cuban artists, writers, historians, dancers, and musicians; and take courses taught by both Hampshire and Cuban faculty."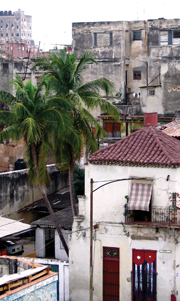 At Hampshire, students are encouraged to pursue study abroad. It was one of the practices, along with Hampshire's unique academic model, that drew Walters to the college. "I chose Hampshire, first, because I knew I'd have the opportunity to go to Cuba and, second, because I had given up on 'traditional' schooling altogether," she says. "I felt I wasn't learning anything relevant or meaningful, yet I still managed to do well and get good grades. Because I'm now able to put together my own program of study, I continually find myself motivated and excited about the work I do."
Study in Cuba was an integral part of Walters' self-directed path. It was for third-year student Maryette Haggerty-Perrault, too, who studied there last spring during her Division II. Perrault is concentrating on architecture and engineering. "My project is basically a study of seventeenth century Cuban colonial architecture," she says.
Perrault spent a semester analyzing the iconic, colonial structures of Old Havana, which she says have gone largely untouched since their construction. She designed floor plans and layouts, and created computer-generated models of the homes. She also lived with a Cuban family in Havana. "It was amazing," she says. "I had never left the [U.S.] before, and when you're there, they really are your family."
Perrault is currently leaning towards a career as a civil/structural engineer. But she still has time left to explore at Hampshire, and she's hoping it will include another trip to Cuba. "It worked out great, and I really want to go back," she says. Paulman wants to see this spirit spread. She explains: "Our hope is that students will take advantage of the Cuba-related courses taught at Hampshire, will aspire to become proficient Spanish speakers, and will apply for the opportunity to spend a semester engaged in research and study in Cuba."