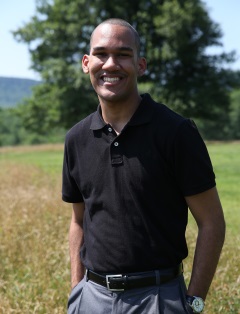 Degree: B.A., Oglethorpe University
Originally from: Stone Mountain, GA
Email: msantiago@hampshire.edu

Piece of advice for prospects in the college search process:
Try something different! Consider looking at a college that offers something you have never experienced before. College is a chance to see a world you have never been exposed to in your educational experiences beforehand. It is natural for students to look for a school that has students and an atmosphere they are familiar with. Change it up! Look for a school where you can meet people who are different from you, yet naturally connect with you. That's what college is supposed to be: a new experience. And make sure you visit every campus you are applying to!

Favorite way to travel:
I love driving. I have been known to drive crazy distances without hesitation or complaint. I have driven back and forth between New England and Georgia twice, and plan on making the trip a few more times. Nothing is more settling than watching the beautiful landscapes in the backdrop as you listen to some good music to set the scene.

Favorite literary genre:
I am a huge fan of the Harlem Renaissance and Southern Literature. One of the greatest aspects of my college experience was being able to explore the eclectic writings of Langston Hughes, Claude McKay, Zora Neal Hurston, and so forth. I am also keen on William Faulkner, Ernest Gaines, and Tennessee Williams.

Favorite way to procrastinate:
Music! I spend so many hours researching music through YouTube, Grooveshark, Pandora, and Spotify. It is a borderline obsession! I have been known to spend hours doing random searches on music artists from all time periods. You know how YouTube works: One video leads to thousands more!

The things I want to accomplish in the next several years:
I would love to start my own music collaboration and record an amazing album. I play harmonica and am a huge fan of blues/jazz/funk/and soul. Nothing would be greater than putting together an ensemble of some of the finest musicians and writing my own music. I also hope to write a series of short stories and have them published.

An interesting fact about me:
I started an acapella quartet called the Santiago 4 when I was in college. I wrote the lyrics to all of our songs.