Brendan Toller Tells a Secret History of Rock and Roll
In 1987, An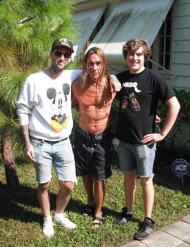 dy Warhol told Danny Fields he wanted to tape his life story. Fields agreed, but within a month, Warhol was dead. Now, more than 20 years later, Brendan Toller 04F is telling the tale of this little-known but hugely influential figure in rock and roll. 
It started while Toller was working on his Division III, a documentary entitled I Need That Record! examining why more than 3,000 independent record stores in this country have closed in the last decade. In the summer of 2007, he traveled across the United States interviewing independent record store owners as well as cultural luminaries such as Noam Chomsky, Thurston Moore, Mike Watt, Glenn Branca, and Lenny Kaye.
"It was a magical time," says Toller. "Pitchfork had the trailer up on its news section before I even finished the film or passed Div III. I still get really nice fan letters, which is amazing." The film went on to screen at some 50 film festivals and win the audience award at Melbourne International Film Festival, and now has over 55,000 views on Netflix.

One of the most colorful interviews Toller conducted for the project was with Danny Fields. The two spent so much time talking about Fields's fascinating life story that they barely touched on record stores. The footage ended up on the cutting-room floor, but the seed was planted for Toller's next project.

Toller describes Danny Fields as "a Velvet Underground groupie, press publicist to The Doors and Cream, Warhol confidant, photographer, roommate to Edie Sedgwick, the American editor behind John Lennon's cataclysmic ?more popular than Jesus' quote, and discoverer of the MC5, Stooges, and David Peel. He worked with Nico and the Modern Lovers, managed the Ramones to legend, and so much more. A real watershed fellow."
The two developed a friendship after their first interview: "I invited Danny up to do an interview night with Thurston Moore and Byron Coley 74F for Neil Young 94F's famed Phantom Brain Exchange series in Turners Falls, Massachusetts. I would visit Danny almost every time I went to New York. One day," Toller says, "I told Danny that if he ever needed help with his memoirs or possibly a documentary, I'd like to help, and when I finally moved to Brooklyn, he was eager to get started."

Danny Says, which will most likely be split into a series with its eye on the broadcast arena, features interviews with Fields, John Cameron Mitchell, Alice Cooper, Iggy Pop, Fayette Hauser, Judy Collins, Wayne Kramer, Jonathan Richman, and more. The film is in postproduction and in the midst of a Kickstarter campaign. Toller aims to have it completed by November 2014.

Toller is grateful for the way his Division III is directly informing his current work: "Above all, I knew Hampshire was striving toward something beyond the average college education, "he says. "Hampshire really teaches you how to learn--how to elevate your knowledge and education. That's the best you can ask of ?higher education.' Danny has told us that ?cool is inventing yourself.' Very Hampshire."

To read more and watch the preview, visit http://dannysaysfilm.com.