Professor of Cell Biology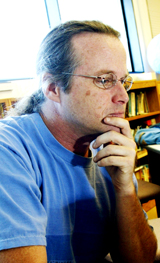 Christopher D. Jarvis, professor of cell biology, received his B.S. in microbiology from the University of Massachusetts at Amherst and his Ph.D. in medical sciences from the University of Massachusetts Medical School. He did his post-doctoral work in immunology at the National Cancer Institute at the NIH.

His research and teaching interests include T-cell development and signal transduction; he has recently been examining the effect of phytochemicals on cells of the immune system. He has also begun a student research program in fermentation science.

His other interests include astronomy, general aviation, skydiving, and zymurgy.