Professor of Dance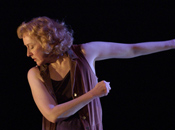 Daphne A. Lowell, professor of dance and movement studies, and member of the Five College Dance Department, holds a B.A. in cultural anthropology from Tufts University and an M.F.A. in modern dance from the University of Utah.

She toured nationally as a soloist with the Bill Evans Dance Company for several years, and taught dance full time at Arizona State University, the University of Washington and Smith College. She studied Authentic Movement with Janet Adler and Edith Sullwold in the Mary Starks Whitehouse Institute in 1982.

Her interest in contemplative practices, Authentic Movement, creativity and dance in ritual led her to develop the nationally recognized Contemplative Dance workshops and training programs with colleagues Mary Ramsay and Alton Wasson. They have taught these since 1989 to professionals of all ages at sites throughout the country, including Omega Institute, Naropa, Common Boundary National Conferences, and Hampshire College.

Her articles on Authentic Movement have been published in Contact Quarterly and A Moving Journal, and she wrote the entry on Authentic Movement for The Illustrated Encyclopedia of Body-Mind Disciplines edited by Nancy Allison (The Rosen Publishing Group, 1999). She also contributed two articles ("The Introduction to Authentic Movement" and "Authentic Movement - A Developing Contemporary Form of Dance Ritual") to Authentic Movement: Moving the Body, Moving the Self. A Collection of Essays, Volume II, edited by Patrizia Pallaro (2006).

She choreographs on themes about women's lives, and also performs Contemplative Dance improvisations. Her "Climbing Mt. Rainier" was one of eight dances selected for the statewide MassMoves Festival in 1989, and her dances have several times been selected for the Gala Concerts at the American College Dance Festivals.

Her courses work with the body, creativity, community, deep improvisation and the multiple roles dance can play in society. They include modern dance technique, dance composition, Contemplative Dance, Dance and Culture, Sources of Creativity, and Embodied Imagination.
Professor Lowell will be on sabbatical leave for spring 2016.
Custom Ads
+

–

Dance and Culture: The Power of Dance
+

–

The Round Table: Research in Dance
+

–

Making Dances I
+

–

Moving Meaning: Contemplative Dance-Authentic Movement and other embodied creative practices for health, wellbeing and creativity
+

–

Dancing Modern I