Professor of Chemistry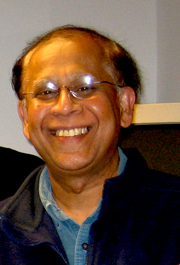 Dula Amarasiriwardena, professor of chemistry, has a Ph.D. in analytical chemistry from North Carolina State University; his undergraduate work was completed at the University of Ceylon in Sri Lanka. He has a M.Phil. in chemistry from the University of Sri Lanka, and a postgraduate diploma in international affairs from the Bandaranaiake Center for International Studies.

His teaching and research interests include topics in chemistry, environmental pollution, water quality, inductively coupled plasma-mass spectrometry, studies of trace metal analysis, toxic wastes, radon monitoring, pesticide residues, soil and environmental chemistry.

He is interested in the development of new analytical techniques, chemical education, environmental issues in developing nations, and in activism in environmental groups through lobbying and education.
Professor Amarasiriwardena will be on sabbatical leave for spring 2016.
Custom Ads
+

–

Pollution and Our Environment
+

–

Chemistry I
+

–

Chemistry II
+

–

Analytical Chemistry
+

–

Research in Nutrition and Pollution