Professor of Public Health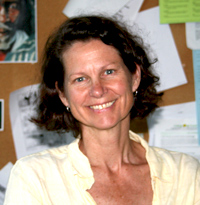 Elizabeth Conlisk, professor of public health, received her B.A. from the University of Notre Dame and M.S. and Ph.D. in epidemiology from Cornell University. Conlisk has a wide range of public health experience at local, state, national, and international agencies, including the Instituto de Nutricion de Centro America y Panama in Guatemala, the Centers for Disease Control and Prevention and the North Carolina Department of Health.

Conlisk came to Hampshire in 2001 and teaches classes in the areas of public health, epidemiology, and statistics. Her research focuses on various topics in cancer prevention, especially cervical cancer screening and tobacco use.

She is also the director of the Five College Program in Culture, Health and Science, an interdisciplinary certificate program for students interested in both the socio-political and biologic bases of health.
Professor Conlisk will be on sabbatical leave for fall 2015.
Custom Ads
+

–

Epidemiology
+

–

Selected Topics in Global Women's Health.
+

–

Statistics
+

–

Agriculture, Food and Health