Dean of Humanities, Arts, and Cultural Studies; Professor of Comparative Literature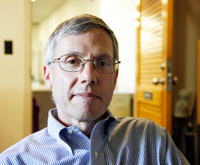 Jeffrey Wallen, dean of the School of Humanities, Arts and Cultural Studies (HACU) and professor of comparative literature, received an A.B. from Stanford University in comparative literature, an M.A. in English from Columbia University, and an M.A. in French and a Ph.D. in comparative literature from Johns Hopkins University. He has published widely on late 19th-century British and French literature, on biography and literary portraiture, and on the recent debates about culture and education.

His book, Closed Encounters: Literary Politics and Public Culture, was published by the University of Minnesota Press. His most recent publications include "Falling Under an Evil Influence" forthcoming in Cultures of Violence (Amsterdam: Rodopi Press), "From the Archives" (co-written with Arnold Dreyblatt) in Remediating Handwriting as a Cultural Practice in the Age of Mechanical Reproduction (Amsterdam University Press), and "Sociable Robots and the Posthuman" in Geschlechter-Revisionen: Zur Zukunft von Feminismus und Gender Studies in den Kultur- und Literaturwissenschaften (Frankfurt: Helmer Verlag).

He is Director of Hampshire's semester program in Berlin, and his teaching interests include 19th- and 20th-century comparative literature, critical theory, and cultural studies.