Assistant Professor of Music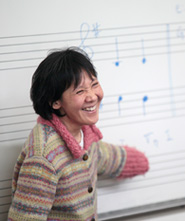 Junko Oba, assistant professor of music, holds a B.A. from International Christian University, Tokyo, Japan and an M.A. from Wesleyan University, where she was trained as ethnomusicologist and sound recordings archivist.

She teaches ethnomusicology, popular music studies, and Asian studies courses. Her research interests include traditional and contemporary Japanese popular musics; East Asia; Asian diasporas, especially Nikkei Brazilian communities in Japan; national identity in the trans- and post-national world orders; music and collective memory construction; and organology and music instruments building.

Her most recent scholarly publication: "Performing Kimigayo: Japanese National Anthem and the Sonorous Undoing of the Collective Voice" just appeared in Asian Musicology.

As a musician, she was trained to perform piano, koto (Japanese long zither), and jiuta shamisen (Japanese long-necked lute).
Professor Oba will be on sabbatical leave for fall 2015.
Custom Ads
+

–

J-Pop and Beyond: Japanese Popular culture in the Transnational Context
+

–

Tonal Theory I
+

–

Introduction to Ethnomusicology: Problems and Methods
+

–

Music as Social Texts
+

–

Introduction to Asia Through Music and Performing Arts