Professor of Architectural and Art History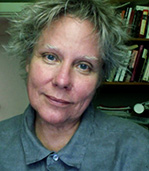 Karen Koehler, professor of architectural and art history at Hampshire College, as well as a visiting faculty member in the Five Colleges, is also coordinator of the Five College Architectural Studies Project, and chair of the Faculty Seminar in Architectural History, Theory and Practice.

She teaches courses in modern and contemporary architecture, painting, sculpture, photography and design, with a special emphasis on connections between the built environment, art, critical theory, and socio-political history. Karen received her B.A. in English Literature and M.S. in Library Science from the University of Ilinois in Urbana, her M.A. in Art History from the University of Massachusetts in Amherst, and an M.F.A. and Ph.D. in Art and Archaeology from Princeton University.

Her research addresses the interaction of architecture and other forms of artistic expression from a diversity of times and places, as in her edited volume The Built Surface: Architecture and the Pictorial Arts (London: Ashgate, 2001). She has also published widely in Europe and in the U.S. on Bauhaus art and architecture, and is currently guest curator of "The Bauhaus: Modes and Modernities," an exhibition of prints, photographs, posters, and architectural drawings, opening in the Fall of 2008 at the Smith College Museum of Art.