Associate Professor of Cultural Psychology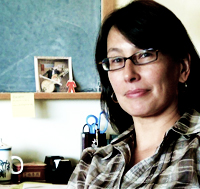 Kimberly Chang, associate professor of cultural psychology, holds a B.A. in psychology from William Smith College, and an M.A. in international relations, M.S. in multicultural counseling, and Ph.D. in social and political psychology from Syracuse University.

Her teaching and research focuses on the psychology of globalization and dilemmas of identity, belonging, and citizenship for those whose lives span national borders and cultural worlds.

She takes a critical ethnographic and community-based approach to learning and is particularly interested in the intersections of social research and creative writing.

She is a participating faculty member in Hampshire's China Exchange Program and the Five College Asian Pacific American Studies Program. She has lived and worked extensively in Hong Kong and China, and previously taught at the Hong Kong University of Science and Technology.
Professor Chang will be on sabbatical leave for fall 2015 and on a leave of absence for spring 2016.
Custom Ads
+

–

Critical Ethnography: Following the Chinese Food
+

–

Crafting Truth: Research and Imaginings at the Borders of Non/Fiction
+

–

Ways of Knowing in CSI: Interpretive Approaches to Social Research