Assistant Professor of U.S. Literatures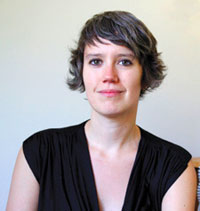 Michele Hardesty, assistant professor of U.S. literatures, received her B.A. from the University of Wisconsin-Madison and her Ph.D. from Columbia University.

Her teaching and research interests include the 20th century novel, political travel writing, globalization and transnational culture, graphic narrative, media studies, and American studies.

She is currently working on a project concerning U.S. writers who traveled to and wrote about conflicts in the "Third World" during the Cold War.
Professor Hardesty will be on sabbatical leave for fall 2015 and on a leave of absence for spring 2016.
Custom Ads
+

–

Cuban Cinema after the Fall of the Berlin Wall
+

–

Cuban Cinema, Women on both Ends of the Camera
+

–

Spanish Language Course
+

–

Locating Modernisms: the Politics of U.S. Literatures, 1910-1945
+

–

Cuba: Revolution and Its Discontents
+

–

Post-45 U.S. Literatures
+

–

Comics Underground: Unconventional Comics in the U.S.
+

–

Americans Abroad: Travel, Empire, and the Literary Imagination