Professor of Anthropology and Asian Studies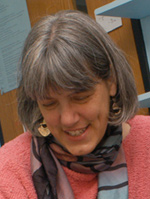 Susan M. Darlington, professor of anthropology and Asian studies, received a B.A. in anthropology and history from Wellesley College and an M.A. and Ph.D. in anthropology from the University of Michigan.

Her research, based on extensive fieldwork in Thailand, examines the work of Buddhist monks engaged in rural development, environmental conservation and other forms of social activism. The broader questions she addresses in her research and teaching include understanding the changing social, political, and historical contexts of religion, environmentalism and human rights, and the creative use of ritual for social change.

She also teaches about socially engaged Buddhism, religious movements, and Southeast Asian studies. She is actively involved in the struggle for human rights in Burma.
Professor Darlington will be on sabbatical leave for academic year 2015-2016.
Custom Ads
+

–

Buddhism and Society in Asia
+

–

Rivers of Life & Death: Riverscaping and Rights
+

–

Socially Engaged Buddhism
+

–

Land Stories, Land Rights